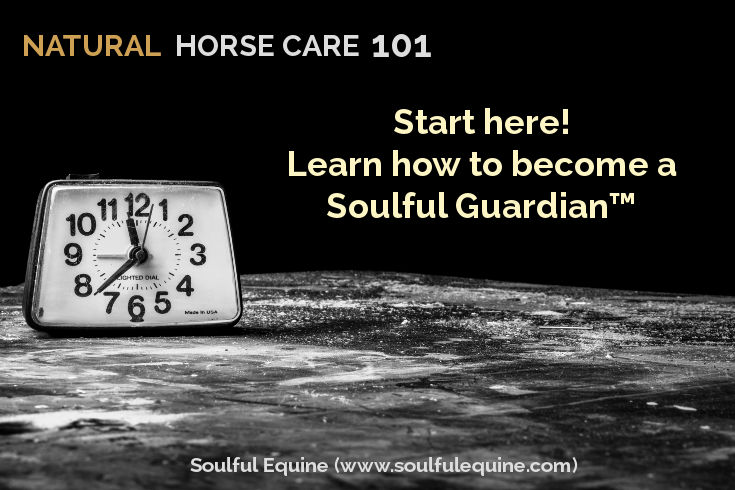 Welcome to Soulful Equine!
New to natural horse care? New to concepts such as natural hoof care? New to our website? Welcome aboard. There's a lot of content here, and you don't have to read all of it at once, but on this page is the order we suggest for beginners.
Start below to find topics that interest you the most and that you feel will add value to your equine partner's life. Take your time absorbing the information. There's nothing wrong with moving slowly and carefully digesting this superior approach to horse care.

Soulful Guardianship
Knowing how to care for a horse naturally is an asset that gives you the tools necessary to Help Your Horse Thrive™. Becoming a better guardian for your equine partner is essential. In the realm of caring for a horse naturally, we like to call it becoming a Soulful Guardian.
A Soulful Guardian is someone who deeply cares for their equine companion, naturally, but at the same time is self-reliant and is a master at modulating extremes. This type of person consistently seeks out answers that remain faithful to principles that nurture a horse's true nature. Soulful guardianship requires persistence, testing and trying, continuous learning and a deep love for horses.
This type of commitment is not for everyone. It's important to understand that this is a journey not a destination.
To get started, click here for free access to Soulful Guardian Basics. That way you will not miss out on learning some of the most cutting edge information on caring for your horse naturally. You'll get access to the following:
An e-course on helping your horse thrive
Natural horse care resources that are not publicly available on our website
Fresh Soulful Equine content updates
Below are some of the resources Soulful Equine has developed over the years for becoming a
Soulful Guardian
.
Books by Soulful Equine
You can also find these books in our online store.  Links above go to Amazon.com.
Natural Horse Product Reviews
This provides an up to date listing of our current product reviews:
Want to Know More?
Disclosures: This page contains affiliate links.