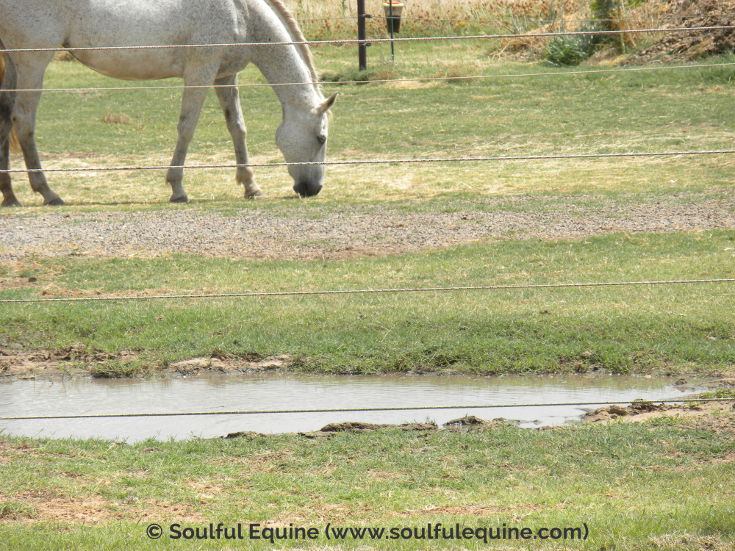 Stephanie's Horse Faith at the Water Hole
In a previous article called The Scoop On Horse Poop, I discussed the importance of manure when it comes to relative dominance in a herd and how you can utilize a horse's natural behaviors to your advantage for managing manure.  This article continues to provide information on bridging that gap between the world of the wild horse and the domestic horse.
Closely mimicking a more natural environment for our horses, by default, can result in a healthy equine partner that will live a long quality life.  As an added bonus we may even see a decrease in our veterinarian bills.  🙂
My Accidental Horse Watering Hole
Each year I usually have someone do dirt work on my horse track (Paddock Paradise) to smooth over any huge ruts or holes my horses created in areas where they love to lay down.  Sometimes I bring in more pea gravel or sand and put it on the track or around the barn.  One sandy area on the track, that is close to the barn, developed a huge crater in the ground over time.
At first I had decided to cover it up and smooth it over until we ended up getting a significant amount of rainfall over the last six months.  Every time it rained that big hole in the ground obviously filled up with water.
I started to notice a pattern develop in my small herd. Each time after a rain they would mosey on over to the water hole, drink water, paw, and sometimes roll in the watering hole.  This of course made the hole bigger.
What was interesting is that they went out of their way to drink the water out of the water hole rather than drinking out of the water trough.  Even though I filter my horses water and keep their troughs clean, they chose to drink rain water at ground level from the watering hole.  At first interesting, but then not so much since that is what horses do in the wild.
Since putting up my track system I always wanted a watering hole for my horses.  Well, be careful what you wish for… mine appeared over time.  Needless to say, I decided to keep it.
The horses love it! Now that it's getting into the hot summer months, I keep it filled up with water.  It's fun to watch their behavior around the watering hole and it can be quite fascinating at times.
Horse Watering Hole Behavior
Wild horses may not stay at watering holes for very long since it could possibly become a threat to their survival.  They may stay just long enough to drink and take a mud bath, among other behaviors, since predators could be close by.
What I have noticed about my own horses is that they love taking mud baths and pawing in the watering hole.  Since I have decided to leave it on the track they seem to really enjoy having it there.
Even though excessive moisture is not good for natural hoof form, a watering hole where the horse may not stay for long will contribute to their overall health and well being.
There are times one of my horses may take a mud bath and then head over to a nearby sandy area to dry off.  Something to consider is that these watering hole behaviors can help with your horse's coat conditioning as well as protection from insects.
What About The Water Trough?
My horses still drink out of their water troughs even though they now have a watering hole.  A horse will determine its own daily watering schedule.  Sometimes they may use the water trough and other times the watering hole.  That being said, I strategically place the water troughs on the track to encourage more natural movement.
An interesting behavior my horses will exhibit on the track is during their camping time.   They love camping under a shed I have on the track that also has a water trough.  I have noticed that they choose that particular shed WHEN I keep the water trough there.  They usually gather and stand right around that trough taking turns drinking like they are in a spa area.
I have experimented with moving the trough to different locations under the shed and they exhibit the same behavior… they will stand right around the trough and sometimes directly over it.  As I look out my window right now that is what they are doing… camping under the shed right by the water trough.
Summary
Learning more about horse watering hole behaviors can help us continue to improve our natural boarding arrangements.  Sometimes, as in my case, a small watering hole that the horse can drink, bathe and take a mud bath in is all that is needed.  If you are like me and you are not one of the fortunate ones who have a nice pond on your property, you may need to get a little creative.
I like to keep things simple, so try not to over analyze this concept.  The fun part is that my horses, with a little help form Mother Nature, created their own water hole.  Maybe you will get that lucky too.  The important thing is that I didn't come along like a typical human and mess it up.
Keep it soulful,
Stephanie Krahl
###
Recommended Reading
For learning more about a healthy naturally kept horse, I highly recommend the books below. You can view my other book recommendations by going to our Amazon Store where I hand selected books for continued education: Soulful Equine's Recommended Books.  You can not go wrong by adding at least one of these wonderful books to your equine health care library.
Bonus Material
I came across this fantastic site using beautiful pictures and videos of wild horses.  These horses live in Sand Wash Basin Colorado.   They are some of the many beautiful wild horses that are being managed toward extinction in our country.
If you haven't already, you may want to read my article Protecting The Wild Horse – A Symbol Of Our American Heritage and then go to http://www.thecloudfoundation.org to help save the last of our wild herds.
I wanted to share with you a wonderful video of wild horses at the watering hole at the Sand Wash Basin Colorado.  To get the most out of these videos observe their interactions and their behavior around the watering hole.
Water Hole
Stud/Dung Piles and The Water Hole
Notice in the video below titled "VooDoo" the stud piles (See discussion: The Scoop On Horse Poop) around the watering hole and the horses' behavior.
Video Credit
Disclosures: This article contains affiliate links.