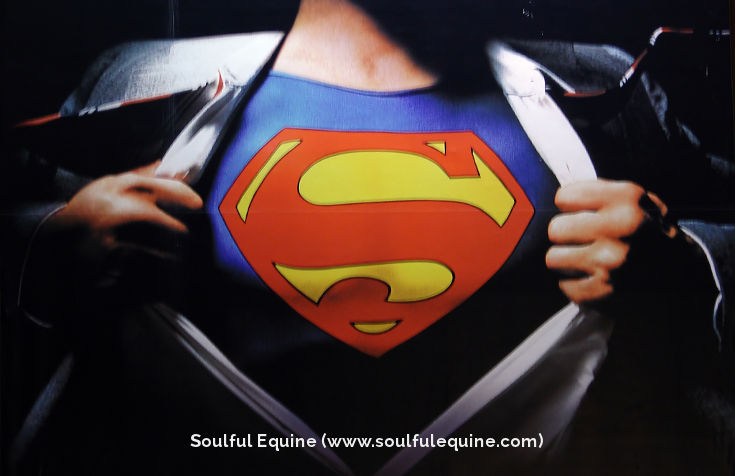 When was the last time you noticed the abundance of equine nutritional products on the market?  It's crazy, isn't it?  It's also confusing.
Additionally, we have products that are labeled "veterinarian recommended" or have the seal of approval from the National Animal Supplement Council (NASC).
This type of labeling can be used as a guide but should not be the deciding factor when selecting a product for your horse.

Needless to say, it can be difficult to weed through the marketing hype and make an informed decision that you feel is best for your equine companion.
As I mentioned in my article about GMO foods, I adhere to a strict list of criteria when selecting anything I feed to my horse.
One of those criteria is that I choose to include highly bioavailable superfoods in my horse's diet.  I also include these same foods in my own diet.
There are many superfoods, but in this article I'll introduce you to three that I consistently incorporate into my horse's diet.
What is a Superfood?
There are certain foods that have an extraordinary quality of nutrition.  These foods are in a highly bioavailable form.  This means your horse's body will fully utilize this type of nutrition and receive multiple benefits due to easy absorption of the nutrients and their synergistic properties.
These foods are not made in a lab where man attempts to isolate that "one" component and put his own spin on it.  Instead, they're foods that are as nature intended.
These foods are called superfoods.  Unlike heavily processed, man-made foods, superfoods contain high quality vitamins, minerals, cofactors and enzymes – just to name a few benefits.
Remember, food by design contains all the necessary elements needed to keep the body healthy as long as we allow these elements to stay intact.
One of my rules of thumb when it comes to nutrition is to avoid highly processed ingredients because they provide poor nutrition.   This is a rule I use in my own diet and especially in my horse's diet.  Rather than feeding processed foods, I choose to feed superfoods and other whole foods.
Superfoods for Horses
Although there are many superfoods, here are three you may want to consider incorporating into your horse's diet. These three superfoods have high nutritional value in the most bioavailable form for your horse – whole food form.
Bee Pollen
Bee pollen is an extraordinary food source.  I've been feeding it to my two older horses for years.  I especially love it for my 26 year old Thoroughbred mare because it helps her keep weight on.  It has also helped her and my other older horse, maintain their muscle tone as they age.
Bee pollen contains a full range of super whole food vitamins, minerals, co-enzymes, antioxidants and amino acids – just to name a few.  Bee pollen is great for the older horse or the horse who has limited grazing.
Pollen contains high concentrations of living enzymes.  However, high heat destroys enzymes, therefore, it's essential that the form is raw whole food.  So, the next time you pick up a pelleted feed supplement to purchase, think again.  It takes a significant amount of high heat to create a pellet.  The same holds true for a tablet supplement.
A good rule of thumb – avoid both pellets and tablets.
Echinacea
You've probably heard of Echinacea, but did you know it's a superfood?  Well, it is – and it provides many benefits.
Echinacea is mostly known for providing your body the support it needs when you start to get sick.  I always keep an Echinacea supplement on hand for my own use just in case I start to feel like I'm coming down with something.
Echinacea is known for its antiviral, antibacterial, immuno-stimulant and anti-inflammatory properties.  This is an exceptional herb.
I feed this herb several times a year to my horses – usually during seasonal changes when there's likelihood for illness.
Do not feed it on a continual basis.  Echinacea is not intended to be given long term.
Spirulina
Spirulina is excellent and considered the #1 superfood – for good reason:
It's easily digestible and highly bioavailable
It's great for the immune system*
It contains all the essential amino acids
It's a high quality source of protein
It contains vitamin B-12 and vitamin E
It contains essential fatty acids- including gamma-linoleic acid (GLA) for heart and joint health*
It contains high concentrations of all minerals including trace minerals
I consider this as close to a perfect food as you can get, and it's in the form nature intended.
I not only feed this fabulous superfood to my horses, but I also incorporate it into my own nutritional program.
As with anything I recommend when it comes to supplementation, it's important to be careful from whom you purchase your Spirulina – not all sources can be trusted.
Although Spirulina, kelp and other sea vegetables are exceptionally healthy, with all the contamination of our sea waters it's vital you obtain it from a reputable source and that it's certified organic and tested by an independent third party lab.
This superfood has too many benefits to list here.  I would like to encourage you to look through the resources I provided you at the end of this article for more information.
Feed High Quality Bioavailable Superfoods
Feeding superfoods promotes a naturally healthy horse*.  Rather than feed highly processed, inadequate food sources, instead, feed high quality superfoods.
Superfoods can provide multiple benefits and are far superior to popular commercial feeds from your local feed store or that highly processed popular equine supplement that's brilliantly marketed.
Above, I've provided you a small list of superfoods, but there are many more.
What superfoods do you feed your horse?  What results have you seen?  Does your horse radiate a vibrant energy about her?  I know mine does.
Keep it soulful,
Stephanie Krahl
P.S.
If you'd like a copy of the in-depth article I wrote for Natural Horse Magazine on Bee Pollen, click here to get free access to  Soulful Guardian Basics.
####
Photo Credit – original photo modified in size and to include the Soulful Equine name and URL
* This statement has not been evaluated by the Food and Drug Administration.  The information in this article is not intended to diagnose, treat, cure, or prevent any disease.
Recommended Resources:
---
Disclosures: This article contains affiliate links.