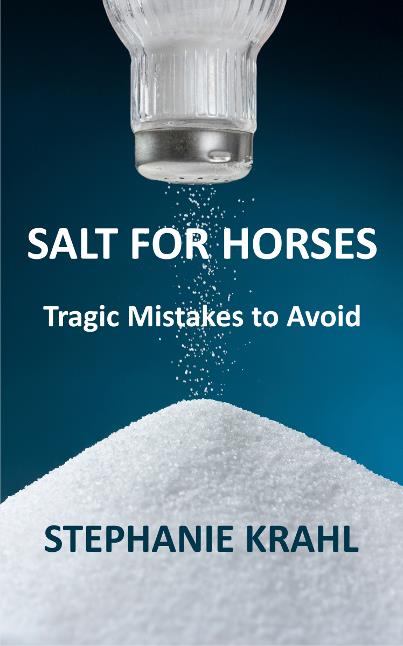 Did you know that salt plays an important role in your horse's health? Without it, life would not be possible. There are a multitude of misconceptions about feeding salt to horses – many of which I cover in the book Salt for Horses: Tragic Mistakes to Avoid.
I continue to see much confusion and misguided information floating around on this subject. That's why I wrote this book. It seems like such a simple subject but in essence it is very misunderstood in the horse industry even by most well-established equine nutritionists who are unintentionally providing advice that's neither healthy nor scientifically sound.

The subject of "salt and horses" is an interesting one, and it's necessary to understand the role it plays in your equine partner's health and in a well-rounded natural horse care program. Additionally, it's important to know what to avoid when it comes to, what I consider, tragic mistakes.
I released a similar version of this book to a limited group of individuals in 2011 and then decided to revamp it and offer it to a wider audience this year (2013). This is one area of equine nutrition I feel strongly about and, as you'll find in Salt for Horses, I left no stone unturned.
Prior to this release, I intentionally asked a few horsey and non-horsey people to read it, because I wanted to make sure that anyone could easily understand the information and be motivated to take action. What I found intriguing is that the feedback was consistent. Each person said it was interesting, packed with helpful information, and that it held their attention.
To my surprise, they also shared with me that they not only obtained more knowledge about equine nutrition, but also learned valuable strategies to use for their own health.
I hope you enjoy reading Salt for Horses and that you gain valuable information about maintaining or regaining your horse's health.
The Book Bundle
Since this book is a great complement to my book Guiding Principles of Natural Horse Care, I've created a bundle on our website of the two books for an attractive price:
Click here to purchase the bundle (US and Canada only).
For a physical copy of the book …
Click here to purchase it on Amazon U.S.
Click here to purchase it on Amazon U.K.
Also available in digital format on Kindle:
Click here to purchase the Kindle edition on Amazon U.S.
Click here to purchase the Kindle edition on Amazon U.K.
Keep it soulful,
Stephanie Krahl