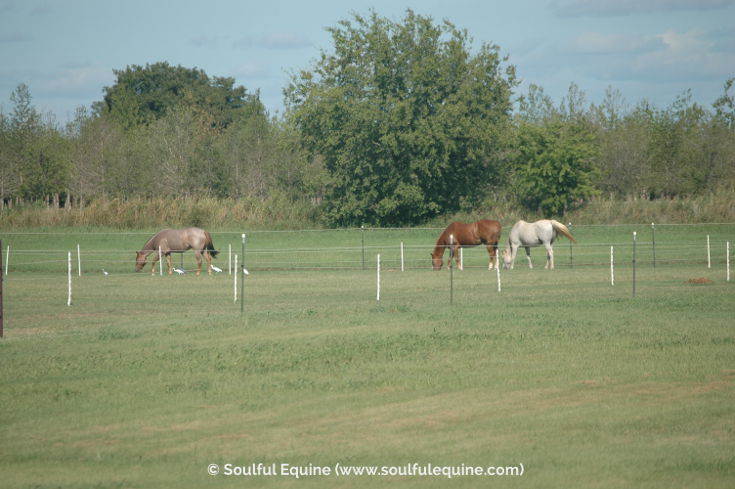 The Horses of Soulful Equine
When you think of a domesticated horse, how do you picture it?  What does its surroundings look like?
The average person may picture a healthy equine in a comfortable stall sticking her head out the door to say hi.  The barn she lives in is immaculate and doesn't even smell like horses live there.
Or…
You may picture horses grazing on lush green pastures where they look happy, fat and perfectly content.
Traditional boarding situations that include keeping horses in stalls, small paddocks or grazing on lush green pastures, is different than natural boarding.

Natural boarding is part of a well rounded natural horse care program.
The first rule of natural horse care is to implement a natural boarding system.
The biggest difference between wild and domesticated horses is movement.  Wild horses move about 20 miles per day.
Does your horse move that much in a day?
Movement in both horses and humans is one of the most important ingredients for optimal health.  The less we move, the more our health declines.  This same concept holds true, if not more so, for our equine companions.
But you say, "I ride my horse every day."  Come on, does that come close to 20 miles per day?
You may ride for 1-2 hours several times a week, put her up in a stall or small paddock and that's it.  From there, her food is brought to her twice per day and she barely has to walk to her water.  The water trough may be just a few feet away from her feed trough.
Wow!  What a life.
That's not much different than you sitting around most of the time in your recliner chair in front of the TV eating donuts and potato chips and having your parent or significant other bring you everything you need.  You don't even have to go to the grocery store.
In all seriousness, this way of horse keeping is what causes more lameness issues and other health problems.
If you were to follow the first rule of natural horse care, you'd create a boarding arrangement that encourages your horse to use her natural instincts to stimulate movement as well as other natural behaviors that are essential to a sound, healthy equine.
The second rule of natural horse care is to implement a natural boarding system.
There are plenty of old wives' tales on horse keeping practices that are not in the best interest of your equine partner.  These practices vary and are far from what our horses need naturally.
For example, there is all kinds of information on the market that will educate you on the different ways you can build a 12 x 12 stall with small runs coming out from the stall area. This sounds more like we're building something for a cave-dwelling animal rather than a horse.
What about the small paddock or "dry lot" solution.  Have you ever observed your horse when she is contained in one of these small areas? How much does she move?  Her biggest excitement may be you feeding her twice per day.
Let's not forget the chemically fertilized, treated, weed-free, lush green pasture which is a founder trap!  Well, you may think, at least my horse will get to move 24/7.  What about the vet bills and possible lameness problems you will end up dealing with?
Maybe these traditional ways of horse keeping work for you and maybe they don't.
On that note, here is a startling fact to think about.  This statement came from Walt Taylor, co-founder of the American Farrier's Association, and a member of the World Farrier's Association and Working Together for Equines programs:
Of the 122 million equines found around the world, no more than 10 percent are clinically sound.  Some 10 percent (12.2 million) are clinically, completely and unusably lame.  The remaining 80 percent (97.6 million) of these equines are some-what lame… and could not pass a soundness evaluation or test.  [American Farrier's Journal, November/2000 v 26, #6, p. 5]
When I first saw these numbers, I was amazed and if you look at the date, those facts were presented in November of 2000.
Do you think it's much better now?
I doubt it because we've just scratched the surface of working toward the kind of mind shift needed to turn something like this around.
Something to consider is that by wild horse standards, domestic horses are neither healthy nor sound.
So what does the first rule of natural horse care have to do with a healthy horse?
The wealth of information gathered through research on wild horses shows that their domesticated counterparts will THRIVE if their environment takes into consideration one of their most basic needs …
MOVEMENT.
In order for a horse to obtain optimal health, she must be allowed to thrive physically, mentally, emotionally, and spiritually.  Through providing a natural boarding system that stimulates movement versus causing less movement, we're one step closer to horses who will thrive in domestication with minimal health problems.
Don't let learning more about natural horse care and natural boarding intimidate you.  And don't keep doing what you're doing just because you think it's too hard to create a more natural environment for your equine companion.
Instead, understand things more from your horse's point of view and learn all you can about implementing a natural boarding system
that works for both you AND your equine partner.
Keep it soulful,
Stephanie Krahl
More ways to learn about natural horse care
Disclosures: This article contains affiliate links.