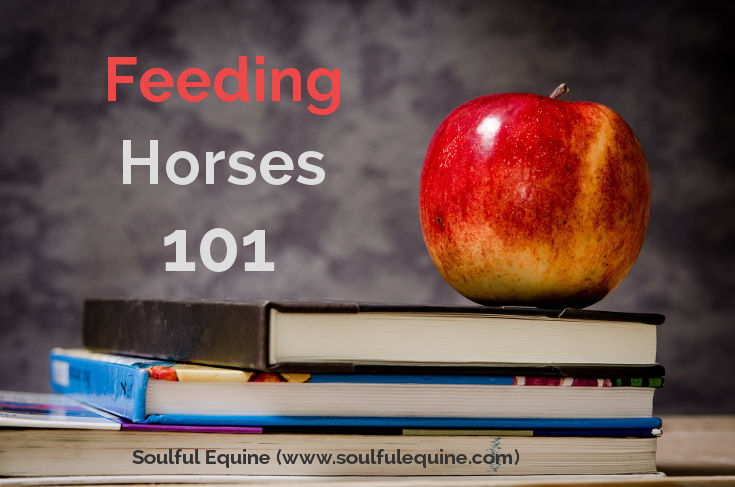 Feeding a horse can be a confusing subject, especially for a newbie.  Even if you're experienced on how to feed horses, there are key principles you may be overlooking that could lead to the degradation of your equine partner's health.
Consistently incorporating foundational nutrition into your health care program can help prevent chronic disease and optimize overall health, for both your equine companion and for you.
This tutorial introduces you to that concept and arms you with information to make more informed choices when it comes to your horse's diet.

A frequent problem I see in the equine industry today is that the majority of horse guardians have holes in their foundational nutrition program. An inappropriate diet is where most equine health problems originate and diet is the key ingredient in overcoming health problems in our equine companions – as well as in ourselves.
What Everyone Ought to Know About Equine Supplements
One area that causes tremendous confusion when feeding a horse is the abundance of equine supplements on the market. Not only is there an abundance in quantity, the quality of those supplements is lacking. The reason?  The majority of equine nutritional products are heavily processed.
You've probably noticed that certain foods, like milk and juices, are pasteurized. This is one form of processing that uses heat to not only kill off bacteria but to also increase shelf-life. You may think that's a good thing.  I hate to tell you this – but it's not. This type of processing denatures food and destroys nutrients, so it's best not to buy anything with the word "pasteurized" on the label.
When diet is wrong medicine is of no use. When diet is correct medicine is of no need." ~ Ancient Ayurvedic Proverb
Most companies are all about shelf-life and the bottom line. Pure forms of most whole-foods breakdown quickly if not properly kept (i.e. frozen or freeze dried) which means they have a short shelf-life. Shelf-life is retained through heavy processing which degrades the value of any food. This approach can also transform a food into a toxin rather than something good for the body.
In other words, food stuffs that are not processed using high temperatures will retain much more nutritional value. One key to optimal equine health and wellness is whole-food nutrition.  This is an important concept to remember when feeding your horse.
It's easy to apply this knowledge when choosing quality supplements and food stuffs for your equine partner, and for yourself. Here's an example: A common form supplements and feeds for horses come in is pellets. One rule of thumb is to never choose any supplement that is pelleted. In order to create that nice little pellet, high heat is used. Not only that, but fillers of some kind are often added.
So rather than pellets, choose to stick to live food and whole-food supplements when feeding your horse.  Keep in mind that horses in the wild will seek out a variety of plant sources. Despite popular belief in the horse world, variety is great for your equine companion.
Oh, in case you're wondering, there's no such thing as a "complete feed."  It's more about balance over time, not at each and every meal.
7 Tutorials About Feeding a Horse That Will Make You a Better Guardian
Here are seven articles that will help you understand important concepts about feeding horses:
Keep it soulful,
Stephanie Krahl
---
To get access to more valuable horse care information that is not publicly available on our website, click the button below to register for your free Soulful Guardian Basics!
Claim Your Free Soulful Guardian Basics