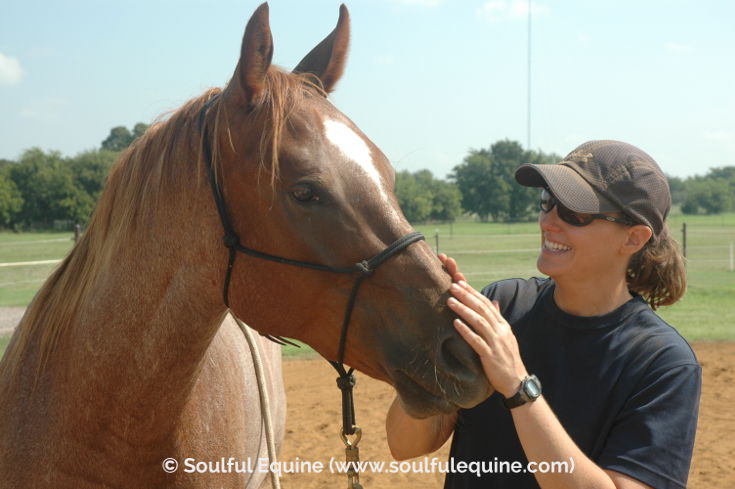 Stephanie and Ransom
This is the 3rd part in the series 
What All Horse Guardians Can Learn from Computer Science
.  
Click here
to read the other articles in the series.
You're building your dream home.  Although you live 3 hours away from where you'll soon hang your hat, you feel confident that the project is in good hands.  Since this is a long distance arrangement, you commit to driving there to check on things every 2 weeks.
The construction company you hired came highly recommended so you assumed they must understand all the nuts and bolts of what it takes to build a home.

Surprisingly, the weather cooperated and the initial structure went up very quickly.
You go to visit your new home to see the progress.  The outside of the house looks amazing.
Most of the inside is finished so you decide to do a walk-through.  You soon realize there's no bathroom, the kitchen has no plumbing, and where's the kitchen sink?!
Not only that, you notice that the floor slopes in the living room.
All that keeps running through your mind is "My house is crooked; I have no bathroom and no way to wash my dishes."
The construction company's response?  "We'll throw in an outhouse for free."
What Went Wrong?
Although your dream home looked great from the outside, essential components were missing.  In addition, it turned out to be a nightmare instead of a pleasant dream.
A similar scenario often happens to horse guardians, especially when they entrust their horse's development to a hacker (trainer) rather than to a horseman.
Something I've learned from computer science that relates to horse development, and most any thing I decide to pursue in life, is the importance of a good infrastructure.
What does that mean?
An infrastructure is the basic, underlying framework or features of a system or organization."  ~  dictionary .com
It sets things up for long-term success.
When it comes to domesticated horses, it means – the fundamental skills a horse must have in order to be in a human's environment.
Not only does the importance of infrastructure apply to your horse, it also applies to you as a horse guardian.
What fundamental skills are you lacking that will enhance your partnership with your equine companion?
Could you need to have better problem solving skills?  What about being a better leader?
A good infrastructure encompasses the foundational elements that are essential to a successful, mutually enjoyable relationship between you and your horse."
Infrastructure Testing
Revisit the dream home scenario I described.  How did you test the infrastructure of your dream home?
You performed a few tests that ended up revealing that something was horribly wrong.  Those tests raised several red flags that were not obvious until you started to tour the inside of the house.
Often times this is how it is with horses.
However the difference is you may overlook the signs that most people check off as "that's just horse behavior" or "that's how Tom's horse acts too so it must be okay."
There are several simple checks you can do to see if your equine companion passes the infrastructure test.  Something to keep in mind is that like a house, certain foundational elements should be in place before others.
Although I could list many more, I'll share with you a few simple tests you can perform in order to establish a baseline when it comes to your relationship with your horse.
Once you have a baseline and you're aware of the issues, you can start to address those areas.
Remember, it's not necessarily about training.  Many times once you start to build a great foundation and a great relationship, most so-called horse behavior problems go away.
As I stated in How to Win Your Horse's Heart, it's the little things that matter to a horse.  Keep that in mind while you go through these simple tests.
Consider These Tests
Does your horse notice you or ignore you?
How far away are you from your equine companion before she decides to let you know that she notices you?  At what point does she greet you?
I'm always aware of this simple but important element.  At what point does it happen?  This tells me a lot about how connected she is to me and what I may need to improve when it comes to our relationship.
For example, when I walk out my back door, my horse, Ransom, will almost immediately notice me, even if he's on the farthest end of his track, which stretches around six acres.
As long as I'm within sight, he notices me… and it's obvious.  He will quit what he's doing, even eating, point his ears in my direction, and raise his head to look my way.  I will always acknowledge it, returning the gesture.
After spending time with your horse, does she prefer to stay with you?
Have you ever experienced a horse that, the minute you unbuckled the halter, she bolts away from you?  Sometimes she bolts even before the halter is completely off.
I'd be willing to bet that horse doesn't enjoy being around people much.  This kind of behavior is not only man-made but it's also dangerous.
Once you establish a strong bond with your equine companion, it's not uncommon for her to prefer to be with you versus away from you, which will eliminate such horse behavior.
Now that Ransom and I have developed a great relationship, he prefers to stick around me rather than joining the herd after we spend time together or after a session.
He has the option to run back to his buddies, but he doesn't until I'm out of sight and in the house.  Sometimes he hangs around a little longer watching to see if I'll come back out.
All I can say is that it's the ultimate compliment.
Does your horse catch you?
Like the horse I previously described who bolts when the halter is taken off, there's also the one who may be difficult to halter.
This horse also doesn't care much for humans, for what ever reason, and she usually runs way from you when it's time to halter her.  Some people, who don't know horses, leave the halter on even when she's turned out, hoping it will make it easier to catch her.
Rather than thinking of it as you catching your horse, think of it as your horse catching you.  If your equine companion doesn't catch you, then she fails the relationship infrastructure test.
This doesn't mean that she has to come running to you way from the herd, although this is ideal, but does your horse at least leave her buddies to come be with you rather than you having to go get her?
This is something I take very seriously.  I rate the quality of this task each and every time I enter my horse's home with a halter.  I ensure that I don't catch my horse anymore; rather, he catches me.
Does your horse walk with you?
Once you've haltered your equine companion, how does she respond once you decide to go somewhere?
Does she drag behind you? Does she push you out of the way?  Does she almost yank you off your feet to eat grass?
Is she hyper and nervous, wanting a way out?  Does she almost run over you each time when you go to walk off?
If you answer yes to any of these, then she fails the relationship infrastructure test.
A respectful partner will stay by your side and enjoy being with you.
What Does all This Mean?
Many times the norm is to ignore the outcome of these simple tests I presented to you.  Keep in mind that these are just a taste of few situations that are common.
If your equine companion doesn't hold up to these simple tests, then it's a reflection of the quality of your relationship.
All it means is that it's important to obtain more knowledge, put your horse first, and develop your relationship so you can become ultimate partners.
Keep it soulful,
Stephanie Krahl
####
Photo credit – Stephanie and Ransom – taken by Stephanie's sister Lynn.