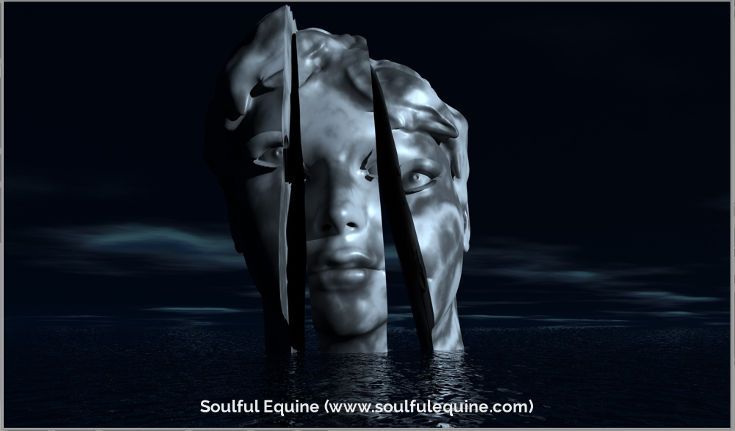 If only closed minds came with closed mouths." ~ Unknown
I hate to tell you this – but you are not normal. How do I know? Because you're reading this article. You're looking for a place to belong, feel accepted and have a voice.

You feel deeply for the horse. She pushes you to become more informed, not only for her well-being, but for you to develop your critical thinking skills. Developing these essential skills can allow you to feel confident in making informed decisions.
I know how you feel. Finding a place where you fit in can be difficult. Especially when you continue to encounter individuals who are extremists.
I've observed a common pattern in the horse industry where people are unaccepting of anything else other than what they're evangelizing. This results in closed minds, criticism and rejection, not to mention downright hateful commentary.
If you accidentally wander into the territory of the true evangelist, you're likely to become chastised, downgraded, and picked apart like a turkey on Thanksgiving Day. When you are not careful with whom you interact, these types of people can cause your emotions to get the best of you.
Learning to Read a Situation Can Reap a Multitude of Benefits
It's important to learn to accurately read the people you choose to associate with when it comes to horses. They don't have to agree with you on every subject, but their core values and belief systems must line up with yours.
The relationship must include mutual respect. Remember these simple words of wisdom – everyone has something to contribute, you're unique and your experiences are yours and only yours. No experience and situation is exactly the same.
There are no experts, only differing schools of thought, and people with a variety of experiences and levels of knowledge."
There are many different ways to achieve the same or similar outcome, so be a voice for your horse, without becoming an extremist on either side of the fence. Not often do you find opinions that advocate balance versus extremism.
Play a Bigger Role in Your Horse's Well-Being and Yours
Sometimes I'll notice a true seeker of knowledge, the one who chooses to use her critical thinking skills, rather than erring on the side of extremism. This quality comes from obtaining a higher level of consciousness in society.
A more conscious individual usually develops true emotional fitness. Here's a tip: look for the good in the feedback or constructive criticism you receive – it's a gift. However, it's your responsibility to weed through it in a fair manner and determine what is a truth and what isn't.
If you want to seek that which is meaningful to you, learning to find ways to deal with rejection and criticism is required.
~ TIP ~
There will always be haters – people who have been hurt usually choose to HURT others.
Avoid the Thorns So You Can Enjoy the Roses
The better you become at using your critical thinking skills the more you're able to quickly weed out those who are not supportive of your cause and beliefs. Even better, you'll attract higher quality people to you whom you enjoy interacting with.
Here's what to look for – horse people who:
Are like-minded
Do not become defensive or rude at the slightest drop of a hat
Have beliefs and core values that line up with yours
Help you to see things from a different perspective but in a respectful manner
Don't need to fully agree with you on every subject but what they stand for must resonate with you
Aren't extremists
Here's what to steer clear of – the big red flags – horse people who:
Are clicky and become snobbish as they get to higher levels in their chosen discipline or area of knowledge
Believe their approach or method is the only way
Have a case of silver bullet poisoning (a quick fix to anything)
Don't put the horse's noble nature first – before ego, a blue ribbon, or winning the next big futurity
Have opinions and beliefs that are extreme and distorted
Are always citing scientific studies
It's important to note that you can still learn a lot from the second list above because you can choose to apply it in a way that resonates with you. It's not required that you interact or become close with certain groups, but there's always something to be learned from any situation or individual.
Soulful Equine encourages you to use your critical thinking skills – unlike most organizations. Here we're anything but "normal."
We can learn from each other in an atmosphere of mutual respect, where the misfits and rejects have nothing to fear.
The best advice I can give you is to learn to read a situation before you decide to embark upon a mission that will end in nothing but disappointment and despair. In other words, pick your battles and understand that the true power lies in setting great examples that produce positive results for you and your horse.
Share with me in the comments the last time you were booted out of a clicky horse related situation (whether it was on the Internet, or off).
Keep it soulful,
Stephanie Krahl