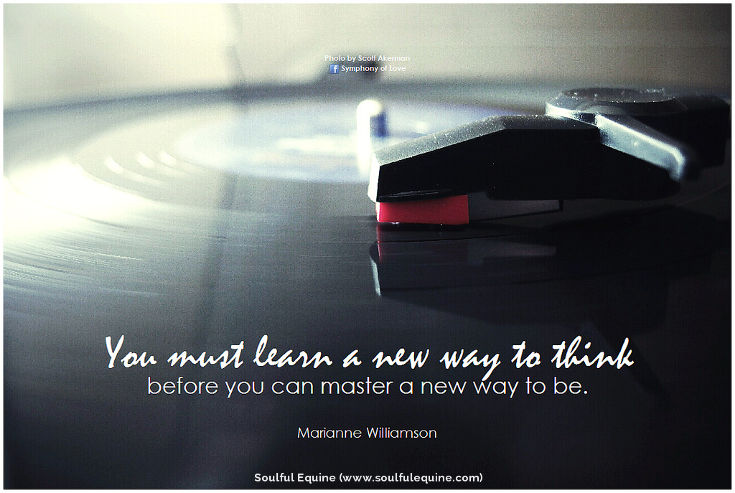 Over the years I have noticed some common reasons people hire me as their natural horse care consultant and coach.  Hiring someone to help you with your horse care practices may seem strange, but knowing some of the reasons people seek help may cause you to think again.
Taking that first step to begin something new can be scary.  Especially if it has to do with subjects such as being a first time horse owner, taking charge of your horse's care, switching from a more conventional to a natural horse care mindset, or learning more about horse behavior so you can improve your horse-man-ship skills.

Sometimes there are days you may feel confident about your decisions and other days you feel confused.  It can easily happen when we are too close to the situation and there are times we don't see what is right in front of us.  It can be difficult to sift through the mounds of information from friends, TV shows, Internet websites, etc.
It is possible to be so overwhelmed with information that we can become stuck in a pattern where we cause no change or we create undesirable change.
Sometimes we need an extra person in the equation to help us out who's "been there, done that."  Someone who can help us interrupt the pattern of being stuck or confused.
It's easy to think that you're alone in your decision and there's no one who can help you, or maybe you don't want to tell anyone about a decision you've made.  You're not the first person who has ever been in a situation where they wanted to make a leap and cause change when it comes to their horse's care and well being.
Asking for help is not a sign of weakness, it's a sign of intelligence … smart people hire other smart people to help them because they know they can avoid mistakes and reach their goals faster.  I like to refer to those people in my life as my "board of directors", so to speak.
But how do you know it's the right time to seek that help and insight when it comes to horses?
I've been a natural horse care consultant for more than 8 years, and it doesn't matter if you're just getting started with horses or if you're wanting to start a natural horse care program… the same principles will apply.
There are six ways to tell you need a natural horse care consultant:
You're just getting started with horses and you want to go down the the best and most affordable path possible from a horse care and safety standpoint.
You've been following a conventional horse care program for many years, but you don't know how to begin a transition to a natural horse care program.
You're using a conventional horse care program, spending a lot of money and not getting answers or results.
You want to save money with your horse care, but you can't figure out how to modify your current program to achieve that.
You want to set up a natural boarding arrangement that will save you time, space, money and improve the health of your horse.
You want to transition your horse from metal shoes to barefoot, but you don't know if it's right for you or your horse's situation.
By no means is this an exhaustive list but it should help you when making the decision to hire a natural horse care consultant.
1. You're Just Getting Started With Horses
Being a horse guardian is a huge responsibility.  I personally take this responsibility seriously.  My take on this is that I better be sure about the decision I make because I consider my horses part of my family (the good kind of family 🙂 ).
What that means to me is that they are with me for life and if you follow the programs put in place by Soulful Equine your horse could easily live a happy and healthy life well into their 30s.
If you are someone who is either purchasing a horse for the first time or you have been out of horses for many years you fall into this category.  Most people in this category, as a general rule, make big mistakes when purchasing a horse.  It is important to consider all that's involved when making this decision.
Going into horse guardianship blindly or with bad advice can cost you not only a large amount of money in the long run but could also cause fear and frustration.  The end result could be that your dream of having a horse could become a nightmare.
I'm sad every time I hear such stories because it's not just the person who suffers but, most of all, the poor horse who was put into the situation.  It's important to do your best to avoid such outcomes and hire someone who can help you before you make the leap.
2.  You've Been Following a Conventional Horse Care Program for Many Years, But You Don't Know How to Begin a Transition to a Natural Horse Care Program
If conventional horse care has failed you in some way and you want to make a change, you fall into this category.  The biggest hurdle I see with individuals in this situation is that they've already gotten a lot of bad advice about starting a natural horse care program or they have certain conventional beliefs that they have difficulty letting go.
This can result in frustration and confusion as well as feeling overwhelmed.  It can be difficult to intelligently sift through the mounds of information especially when much of it may only be half truths.
Finding ways to gradually change old beliefs and, at the same time, not feel overwhelmed helps to make the transition from "normal" to "natural" much smoother.
3.  You're Using a Conventional Horse Care Program, Spending a Lot of Money and Not Getting Answers or Results
I have heard countless stories where conventional horse care practices have failed people and their horses.  In many of those situations, individuals spent lots of money with little or no results and were struggling with the only other option they felt was available… putting their horses down.  This is an occurrence that happens more often than most people realize.
In many of these situations, conventional care has failed them and their horse.
4.  You Want to Save Money With Your Horse Care But You Can't Figure Out How to Modify Your Current Program to Achieve That
There are many unnecessary things that horse guardians spend money on daily that could potentially be cut out.  Starting a natural horse care program , by default, will help you save money.
5.  You Want to Set Up a Natural Boarding Arrangement
Some people may think of "natural boarding" as just kicking your horses out of the stalls and into a pasture.  There is so much more to it than that, although that is one way, it is not the optimal way. The optimal way will help you save time, space, money, and help improve the health of your horse.
6.  You Want to Transition Your Horse From Metal Shoes to Barefoot
Many people are on the "barefoot" band wagon and they think it's easy.  They have read some article in a "big" publication that says anyone can trim their own horse and all you have to do is pull the shoes, do a barefoot trim and it will work.
I hate to tell you but there's much more to it!  Those statements above are exactly why many people still say that horses can't be sound barefoot and live up to the demands of the domesticated horse.
Seeking out proper guidance in this area is critical.  I can't stress this enough!  Hoof care is one of the highest priorities on my horse care list because without a sound horse … well I think you get my drift.
Treating Symptoms Doesn't Fix the Problem
Something to consider that I would like to really hit home with is that the items listed in this article are not real problems.  These are actually symptoms.  The problems lie deeper and must be uncovered.  Most advice about horse care will usually treat only the symptoms of a particular problem.
Speaking with a natural horse care consultant one-on-one can help you get to the root of the true problem and help you create a plan to address it.
Having a conversation with another human being who knows how to work through this process gives you breakthroughs no book, magazine or online article can ever match.
Summary
I hope you will make the leap and seek out help when needed.  Something to think about, when equating time with money, less is often more.  Most of us have been there and done that when it comes to spending money unnecessarily.  If only we had certain information sooner, that could have been avoided.
Seeking out advice may also help you get out of an undesirable situation and/or help keep both you and your horse safe.
Please visit my consulting and coaching page for the details of my program.  I would be honored to help you and your horse.
Keep it soulful,
Stephanie Krahl
###
Photo Credit – original photo modified in size and to include the Soulful Equine name and URL