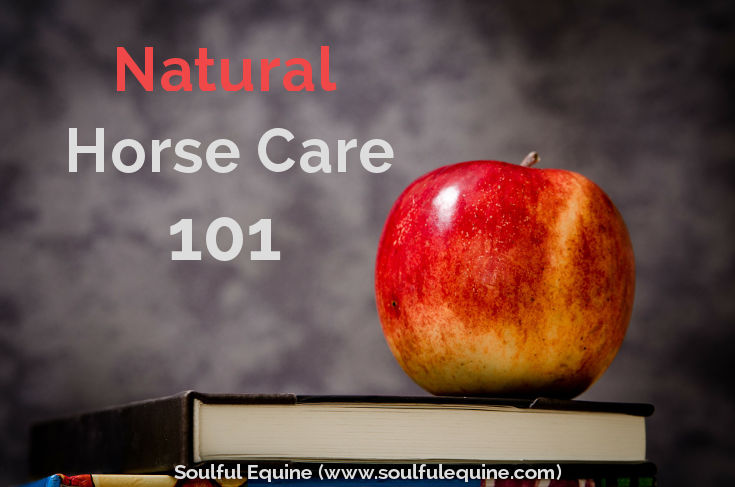 Natural horse care is essential if you want a thriving equine partner. Maintaining a consistently healthy domestic horse is both a science and an art. It involves you becoming an informed, independent thinker who chooses to care for your horse in four separate but distinct areas – emotionally, mentally, physically, and spiritually.
Whether you're a first time horse guardian or you've had horses for years, you'll need to understand concepts that result in a consistently healthy horse. Caring for your horse naturally can produce this outcome. As a side benefit, natural horse care is an excellent approach to decreased horse keeping expenses and the potential for decreased veterinarian bills.

10 Steps to Effective Natural Horse Care
This tutorial is intended to get you up to speed on the basics of natural horse care in ten easy lessons.  Some of these lesson address foundational concepts you must first understand before designing your horse care program for a thriving equine.   At the end, you'll see another series on natural hoof care.
Why Barefoot is Best for Your Equine Partner
Although I'm all about keeping horses barefoot, there are some situations where this may not be the best choice.  Are you surprised?  What I mean by that statement is that barefoot is best for every horse, but it's not necessarily best for every human.  When you decide to pull your equine partner's shoes, it's not just about "pulling the shoes" and going barefoot.  Learn key concepts for having a sound barefoot horse starting with the why bare is best tutorial.
Keep it soulful,
Stephanie Krahl
---
To get access to more valuable horse care information that is not publicly available on our website, click the button below to register for your free Soulful Guardian Basics!
Claim Your Free Soulful Guardian Basics