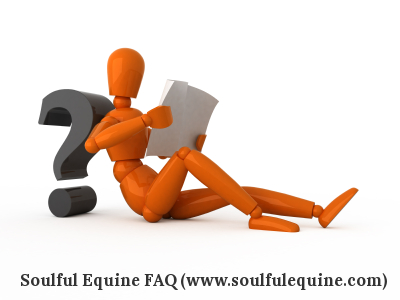 Overview
---
Who reads the Soulful Equine site?
The Soulful Equine blog and site content is read by most anyone interested in non-traditional approaches to horse care and those who are true horse lovers? not just horse owners. Others who read the blog may be interested in reading fun and interesting stories about both our canine and equine partners as well as life lessons.
Our target market consists of people who want to learn more about non-traditional approaches to horse care and who choose to rise above the forces of mediocrity.
What is the main message of Soulful Equine?
Soulful Equine's belief is that horses will not THRIVE using only traditional methods to horse care.  Thriving means so much more than mere survival – it means having quality of life and longevity.
Products
---
How does the business side of Soulful Equine work?
About 90-95% of content on the Soulful Equine blog and site is free, but we plan to sell a growing set of informational products in the future. We also plan to grow our online store gradually with products we believe in and have used ourselves; unique products that may or may not be easily found on other online stores as well as fun and educational 3rd party materials. We will listen to our customers ideas and add products that meet both our customer needs and Soulful Equine's standards.
Any product we offer will be held to a high standard or we will not offer it. If a company we are working with starts to skimp on the quality of their product(s) we will pull those products from our store and dissolve that business relationship.
This will be a strict policy.
Do you offer advertising or site sponsorships?
No, not at this time. In the future we may offer advertising options.
Do you have an affiliate program for your products
As Soulful Equine matures we will put an affiliate program in place.
Articles
---
Can I link to Soulful Equine from my site?
YES – please do so. Linking to our site helps with search engine rankings and we are grateful for your help. You can link directly to soulfulequine.com or to any of the articles on our blog that you find helpful.
Will you trade links or link back to my site?
Like most reputable and established blog web sites, Soulful Equine does not trade links. We will, however, share great resources with our readers without expecting anything in return from the sites we do link to.
I left a comment and didn't see it – what happened?
Soulful Equine has a policy regarding comments. The policy is that constructive feedback is allowed but you must "add value and be nice." What is not acceptable and will not be published are anonymous or hateful comments. In addition, self-promotional comments will not be published. If you have a legitimate comment and it was not posted feel free to try again. Sometimes comments may get dissolved by the spam filter.
Keep in mind that it may take a little time to process all of the comments we receive. If we get too far behind we will consolidate comments and do our best to post a wide range of views that where provided.
Criticism
---
I don't like what Soulful Equine is all about because ….[whatever the reason]
The information, views and the belief system of Soulful Equine is not for everyone. If it is not for you that is OK. It does not hurt our feelings. Our goal is to attract those who are "like minded" and who have a passion for learning. As the old saying goes.. birds of a feather flock together. There are many other organizations, web sites, etc. that may suit you better.
Soulful Equine's Thoughts
---
Soulful Equine loves the saying "If you do not stand for something, you will fall for anything!". It is easy to criticize rather than stand for something. It is better to believe in something rather than sit at the sidelines, do nothing, and complain about what the next guy is doing wrong. Soulful Equine knows what side of that fence we want to stay on. We will never claim to know all, but we will always strive to do better.
Great spirits have always encountered violent opposition from mediocre minds. ~ Albert Einstein