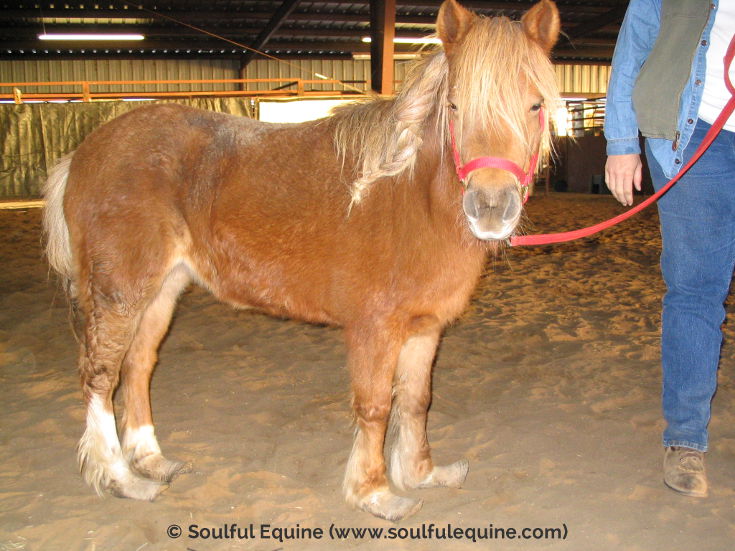 Pearl at a Pete Ramey Clinic in 2006
In our Natural Hoof Care series I have covered several different "getting started" points of view.

In part one, "Natural Hoof Care An Introduction", I gave a high-level introduction of my personal journey to using natural hoof care principles.
Part two, " Natural Hoof Care For The Traditional Farrier", provided another perspective if you're thinking about making the switch to natural hoof care and you're a traditional farrier.
Part three, "Natural Hoof Care For The Horse Guardian", took a look at where to start and what to consider if you're a horse guardian who is considering using natural hoof care principles for her own horse(s).
This article will provide a different perspective… the horse guardian who has encountered a situation where her horse became laminitic or has foundered.  From a "traditional" point of view, this is usually a difficult subject to address.  However, if you're entrenched in the natural hoof care movement, you are aware that these types of cases can, and are, being rehabilitated almost on a daily basis.
Then why, you might ask, does such a problem even exist?  Well, in short, it's man-made.
I would like to take this opportunity to tell a few stories that have touched my life especially when it comes to foundered horses.  For the most part, I have given you the majority of information in the previous articles so you can seek help for even the most severe cases.
Since I love to use stories for teaching I think these stories will complement the resources I have already provided in the previous articles.
That Special Pony Who Started It All
I grew up on a dairy farm in North Central Texas.  Like most kids, especially those who live on a farm, I dreamed of having my very own pony.  I was only 16 months old when Thunder came into our family.  She was a Shetland pony, palomino in color.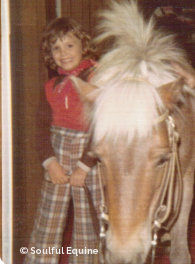 Originally, my parents bought her for my sister, who is four years older than me.  As time passed and I grew older, the horse bug in me became stronger.  My mom still tells the story about me walking out to Thunder's pen when I was only 18 months old.  Thunder would either run over me or bite me and I would still go back for more…. crazy kid!
My sister lost interest over time and Thunder ended up becoming my first equine companion.  It was like a love / hate relationship between the two of us.
Thunder and I had many wonderful times together and she is the first horse who taught me a lot about horse behavior, even at such a young age.
Picture:  Stephanie And Thunder

I asked my mother if she remembered how old Thunder was when she passed.  We estimated that I was about 12 years old and Thunder was a young 16 years of age.
It is strange, but back then, and even at such a young age, I was somewhat aware that turning horses out on lush green spring grass could cause founder.  We probably were not aware at the time that ponies were more susceptible to founder than regular sized horses.
Thunder was not exempt and, as in most cases where people lack knowledge, we did not realize we were the ones causing the problem.  Thunder battled with founder for quite some time.  My family was not poor but we also could not spend the money it took to have Thunder trimmed as regularly as she needed.  Another thing we probably didn't realize is that she needed trimmed more often.
Plus, we were not addressing her diet.
When I was about 12 years of age, my father called the vet to have Thunder put to sleep.  I remember the day Thunder passed.  We usually kept her in a pen back behind what we called "the big barn" north of our house.
My father would not allow me to watch, but I still remember knowing what was going on and standing there watching the vet and my dad walk to the the back of the barn where Thunder lived most all her life.
To this day I feel bad that I wasn't by her side when she passed.  However, I now know that maybe I can make up for it by doing what I can to help other horses who may be in a similar situation.
Another Special Horse Who Touched So Many
In January of 2006, I hosted my first Pete Ramey clinic.  We had everything ready for the clinic to begin.  At the last minute someone [I will call her Kelly – this is not her real name] who was going to attend the clinic, and who helped run an equine rescue in Texas, got a call.
The call was about this Shetland pony who had foundered and the people had let her go for too long.  Her hooves were curled forward and upward at least 5 inches plus.
We already had all our slots full for horses Pete was going to trim.  Kelly had to pick the horse up on the way, so she ended up bringing her along in hopes that we could fit her into the schedule.
As soon as anyone saw this little pony they just melted.  Her name was Pearl and it rightfully fit her.  She had a strong will to live and an energy about her that would say "bring it on!"  How could anyone turn down such a character.
When I first saw her, I had an immediate flash back to Thunder.  Pearl looked a lot like Thunder and her hoof growth was very similar.
I think once Pete saw this little horse he just couldn't turn her down.
I often think about certain events and how they've touched so many lives through a domino effect.  For example:
By hosting that clinic, Kelly brought Pearl
Pete trimmed Pearl, which allowed all the participants at the clinic to witness a new beginning for a wonderful little soul
All around, that one event touched many lives in many ways, both equine and human.
I have provided pictures of Pearl … before and after the trim at the end of this article.
One thing that really sticks in my mind about Pearl is that after Pete trimmed her she let him know how grateful she was.  She immediately walked much sounder (although she still had a long way to go) and she did a cute little head toss almost like a salute.
What a cool pony!
I really wanted to take her home, but if I brought all the horses home that I wanted to, I would have my own animal sanctuary… maybe some day!
I hope you enjoyed this post.  I would love to gather some of your stories if you are willing to share and maybe do something special with them on Soulful Equine's site.
Feel free to e-mail us your story by going to our Contact Us page.
Keep it soulful,
Stephanie Krahl
###
Pearl's Pictures – Before and After Her Trim
Coming soon!
Recommended Reading
For learning more about a healthy barefoot horse, I highly recommend the books below. You can view my other book recommendations by going to our Amazon Store where I hand selected books for continued education: Soulful Equine's Recommended Books. You can not go wrong by adding at least one of these wonderful books to your equine health care library.
Where to find other educational information from this article:
Pete Ramey's DVD Sets & Giddy Up Flix – If you would first like to watch Pete's DVD series before buying I would highly recommend first renting them at Giddy Up Flix