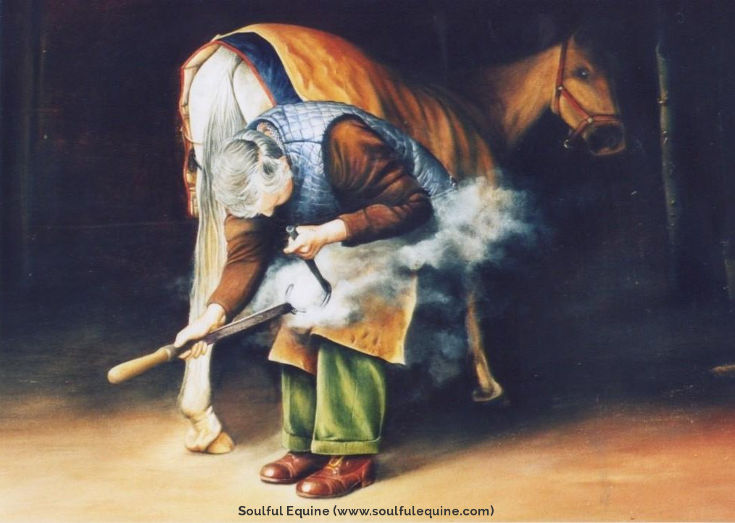 In part one of this series "Natural Hoof Care an Introduction", I gave a high-level description of my personal journey to using natural hoof care principles.  I decided to write this series because I'm often asked the question "Where do I start?".
Most of the people who ask that question have horses with lameness issues.  Some are friends of professional farriers asking for a farrier and others thought it might help enhance their horse's performance and health.  Each person and horse situation is different.

One common pattern that I've noticed, however, is that usually those people won't "ask" until they're at a crossroad and pretty much ready to make a decision.  Most likely, if they are curious enough to finally ask, they've been observing someone else who is probably setting a good example and / or they've heard about it through the "grapevine" and want to know more.
A very good lesson I learned early on is that it's important not to try to sell someone on going barefoot.  It's best not to offer information unless they ask.  It's never a good idea to be pushy about anything but rather to set good examples.  People usually come around when they see the results and the benefits.
When you love horses as much as I do, this advice is very hard to put into practice because the horse is the one that ends up suffering.  However, in order to help the horse we must first educate the human.  This is tough because most humans don't like change and probably only about 3-4% of the population really want to learn and improve themselves.  This is not just as it relates to horses; it's true with most anything.  What's unfortunate is that when an animal's involved, it ends up getting the raw end of the deal until the human decides to learn more.
That being said, natural hoof care is first and foremost about education.
Now, on to where I recommend that a conventional farrier should start.  First, something to consider… you need to be prepared to erase a lot of your conventional thought patterns when it comes to "hoof care".
Most of what you'll learn when you decide to dig deeper into natural hoof care is that you need to think back to what you "use to do" and do the opposite.  You'll be in pretty good shape if you take this advice.  In other words, if you're starting with a clean slate, there's no baggage to clear, but if you have conventional training and thought patterns, then you may have a harder time.  Who knows, I could be wrong.
One of the biggest lessons you'll learn when switching from conventional hoof care to natural hoof care is that the hooves are justa small piece of a much bigger picture.  Although the hooves are a very important piece, they're usually a symptom and not the underlying cause of lameness.  This is where most people think it's just too hard to go barefoot when, in reality, it can simplify things.
Again, what is important?
Education and change in thought patterns.
Education Step One
If you're a conventional farrier and you want to know where to start, I would first start with an introduction to natural hoof care.  The best introduction on natural hoof care that is available today on video is Pete Ramey's Under The Horse DVD series.
I hosted two Pete Ramey clinics over the years when he was still traveling around the country and putting on clinics.  Each clinic was full of foundational information you must understand.  The clinic which he used to put on is now available on DVD.  I plan to do a review of his DVD series in one of my future articles, but for now it's important that you first start with Under The Horse.
Education Step Two
Watch and study Pete Ramey's other videos in this order:
Tools Of The Trade
That's My Horse #1
That's My Horse #2
Education Step Three
An educational program that has been evolving over the last several years that I consider the best is The Equine Sciences Academy (ESA).  If you're sure you want to make a commitment to learning how to become a natural hoof care professional, I would highly recommend the ESA.  As of today, you won't find a program out there that can measure up to the ESA in terms of the quality of the program itself or the faculty.
If, however, you find you're not yet ready to make that kind of commitment, I would recommend you start auditing ESA classes online.
Education Step Four
If you're a conventional farrier, another suggestion I have is to set up multiple mentorships with qualified natural hoof care professionals.  I would recommend you pick from the list of trimmers with the American Hoof Association (AHA).  This association is an organization that does not replace the ESA or other organizations but complements them.
Three individuals I would highly recommend are Todd Jaynes, Eddie Drabek, and Gil Goodin.  I personally had them as instructors, and they are all members of the AHA and exceptional teachers. If they can't fit you into their schedule, be sure to ask them who else they would recommend.  Always ask for recommendations.
Getting a taste of natural hoof care in this way may help you decide if it's really for you.
At this point, I would like to interject some unsolicited advice.  Make sure that you are motivated by concern for the horse and not by greed.  Don't get into natural hoof care because you want to be able to say that you "both" shoe (metal shoes) AND are a natural barefoot advocate / trimmer.
Those two go toether like oil and water.  Don't be that person.  Do it because you believe it's what's best for the horses in your care.
Core Principles of Natural Hoof Care
It's important to understand that those who say natural hoof care doesn't work didn't apply all the necessary principles correctly or at all.  Below is a list of the primary core principles of natural hoof care in order of importance:
Movement – lots of movement… this doesn't mean just one or two hours per day of riding.  Wild horses move up to 20 miles a day.  There are methods that can be applied using a horse's natural tendencies in order to cause more movement.  Movement does not mean out during the day and then in a stall at night.  It means 24/7 turn out with equine companionship.
Diet – All I can say here is "dump the junk and allow the cavalry to come in".  There is much to be learned in this area.  Many of the educational materials produced by Soulful Equine can help you with this.
Natural trim based on the wild horse model – Trim is last on this list because if you apply the other two principles correctly, the trim becomes the least important piece, but it is still a big part of the equation.
Other factors to learn more about that contribute to soundness in our horses are:
Natural Balanced Dentistry
Saddle fit
Becoming a balanced natural rider
Summary of Things to Consider If You Are Coming From a Conventional Background
It is NOT ONLY about the trim.  This is a very important concept to grasp.
It is more about reading the hoof and the situation than it is about the trim.
It IS a whole horse approach… hoof problems are usually just a symptom of an underlying cause.
Educate yourself first, then be prepared to educate your customers.
Natural hoof care works through educating the horse owner.  If you are not up for this responsibility, then switching over to natural hoof care may not be for you.
You should be a strong advocate… a true natural trimmer does not place "metal" shoes on a horse.
You must genuinely care about setting the horse up to allow healing to take place.
Have GREAT, not just good, horse-man-ship skills.  I have run into more people who are tired of farriers mistreating their horse during a trim – it is unnecessary.  However, it is also not the farrier's responsibility to train the horse.
I realize this was a long article packed full of lots of information.  I wish I would have stumbled upon something like this 7 years ago, however, the quality of the organizations and the knowledge base was still evolving at that time.  It has come a long way!
I believe this resource will be the only one you need to get started.  All of the references I provided are of the utmost quality.  Keep in mind that there are many opinions and techniques out there being applied.  The important thing to get out of this is to pick a method and stand for something.  I love the saying … "If you do not stand for something, you will fall for anything".
I hope this will get you off to a great start on your journey to natural hoof care.  I plan to add a reference area of other books, publications, etc. that you will also need to add to your educational library, but for now, start with this article and check back here for the other references at a later date.
In order for natural hoof care to be successful, it is important to have a wholistic approach to reading the situation at hand.  I also believe a spiritual piece comes into play.  It is important to learn to read the most subtle of signs as well as have good intuitive guidance.  I believe the entire package is important to helping our equine partners THRIVE versus just survive in domestication.
Keep it soulful,
Stephanie Krahl
Where to find the educational information from this article:
Pete Ramey's DVD Sets & Giddy Up Flix – If you would first like to watch Pete's DVD series before buying I would highly recommend first renting them at Giddy Up Flix
###
Image by janet_farthing