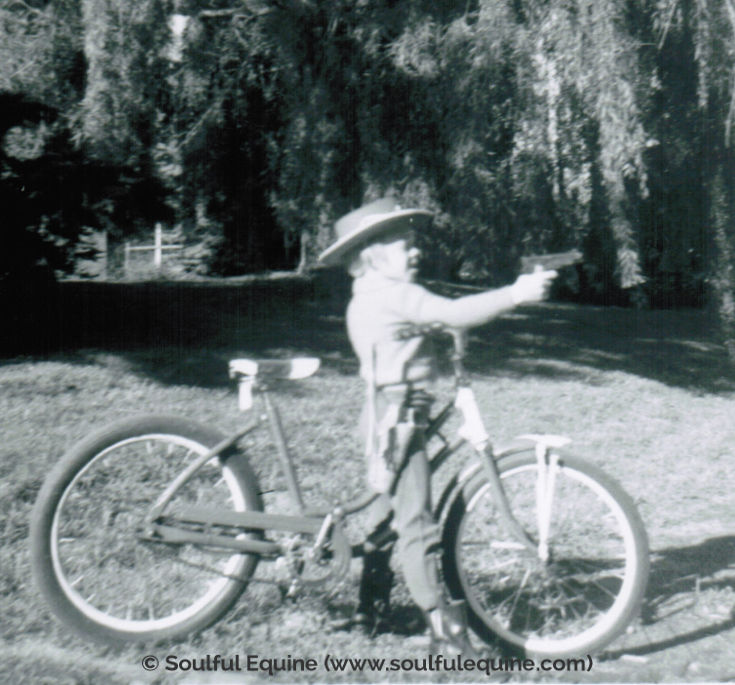 Sharon – Early Dreams of Riding Like the Wind
I have decided that it's time to try to look further into whether or not there really is a "horse nut gene."
There are things in this world that are best left unexplored, but I don't feel that this is one of them.  By showing that this gene truly does exist, we will be helping to remove the stigma that these poor souls live with on a daily basis.
No longer will people wonder if environment played a factor.  It will simply be accepted as something they were "born with"… an inherited trait … not a disease and something worthy of psychoanalysis.

People will no longer have to tiptoe around them in political correctness.  They will be able to live among the rest of us with understanding and without ridicule … receiving the respect they so rightly deserve.
Digging Deeper
This won't be scientific in nature, but more observational and using the process of elimination.  In this examination, I'm going to use myself as the example, and so …
I don't recall at what age I started being drawn to horses.  Maybe it happened way back when I was very young.
I used to love to watch Roy Rogers and Dale Evans on TV.  I even had my own cowboy outfit.  Yes, I said "cowboy."  I was a tomboy – no dresses for me!  Hello.  Who rides a horse in a dress? Come on.
I even remember my grandma and grandpa taking me to one of those local petting zoos when I was about 6 years old.  One of the animals was a donkey that I was particularly enamored with.
Grandma said that in one instant I went from standing quietly behind the donkey to a running Roy-Rogers-type-leap-over-the-butt mount from behind.  She said it happened so fast she didn't have time to try to stop me.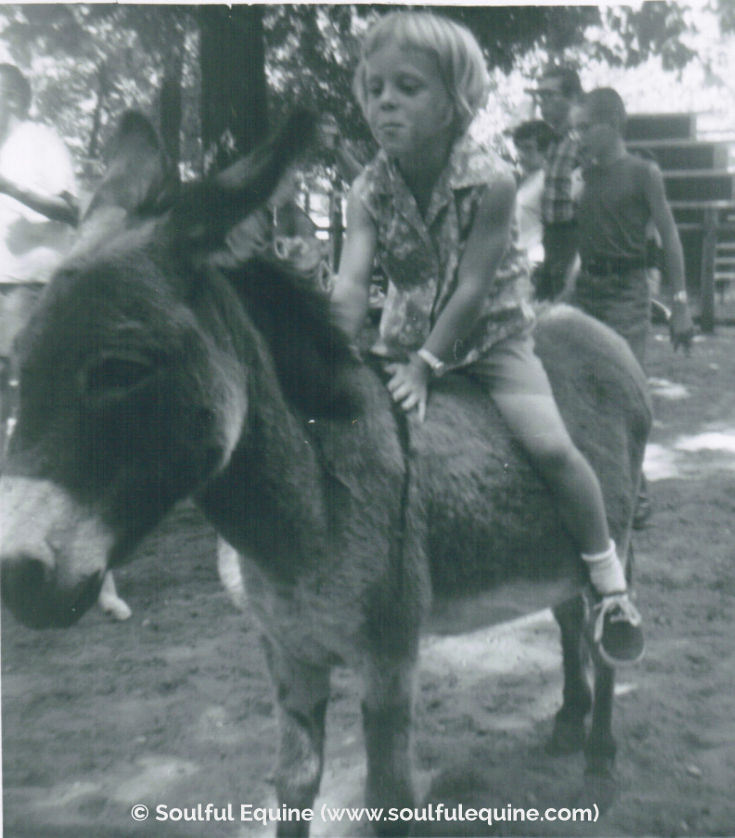 I was pretending to be Roy.  It took the donkey by surprise, too.  Fortunately he was a good sport about the whole thing.  Before she yelled at me to get down, Grandma snapped this picture.
Mom, Dad … Can I Have A Pony?
So you see, I loved animals and playing cowboy from a very early age.  But it wasn't until the age of 10, when we moved from town out to the country, that I started asking if I could have a horse.
Ah – those words every parent must hate to hear.
Surprisingly, Mom and Dad weren't discouraging.  In fact, looking back now, I realize that their response was quite brilliant.
We lived three miles from one of the nation's finest college preparatory schools, Culver Academy.  They are known for many things, one of which is their riding program and their stable of over 100+ black horses called the Culver Black Horse Troop.  They have ridden in nearly every inaugural parade since Woodrow Wilson's in 1913.
So right there, in my backyard, was a PERFECT place for me to go experience horses.
Dressing For The Part
Back in the early 70's, Culver offered a two-week riding camp for boys and girls.  So Mom and Dad's proposal was for me to attend that camp and see if horses were meant for me and I was meant for horses.
Brilliant!
So at the age of 12, off I went one summer to ride like Roy!  I was beyond thrilled!  Day after day of riding horses.  What could be better?
The adventure began with getting my riding attire.
There in came my first disappointment.
As it turned out, I wasn't going to be wearing my cowboy boots and hat.  It seemed that at Culver they rode "English style" and I needed to get fitted for riding breeches.  They actually wanted me to wear something called "breeches."
So fine.  If I had to wear these "breeches" just to get to spend two weeks riding horses, I was in.  "Load me up with them there breeches.  I'm ready to ride like the wind!"
Later I was to find that my snazzy leather cowboy boots were to be replaced with riding boots that practically came up to my butt cheeks.
My cowboy hat was replaced with a riding helmet, and that wonderful western style saddle with the handy "oh crap" horn to hold on to in case of emergencies was replaced with a dressage saddle that looked like a tiny thin strip of leather that was thrown over the horse's back as an afterthought.
WHAT was going on here?  Who ARE these people and who taught them to ride?  Could you even CALL this riding?
Oh well, horses were still involved and I was looking forward to the camp and still dreaming of two weeks of fun filled days and nights.
First Day At Camp
My first day there ended with a bunch of us girls running around outside at twilight playing tag.
Culver has a beautiful campus and the sidewalks back then were lined with a short iron fence about a foot off the ground – and painted black.
So there I was, running and playing in the dark and filled with joy at finally being at my riding camp when I hit that fence like Wild E Coyote hits a wall when chasing after the Roadrunner.  I went flying and hit the pavement so hard it made me pee!
So that was my first trip to the infirmary.
Buffalo Bill
Once I was given a clean bill of health, back to the dormitory I went.
Okay so it started out a little rocky.  Now the fun was about to start.  It was time to ride!
So I was introduced to my horse.  His name was Buffalo Bill.  He seemed nice enough …
… in his stall.
When he got out with the other horses that was a different story.  He picked on anything with a tail. He was constantly starting fights and getting us both into trouble.
It only took the observant instructor a week to figure out that this horse was too much for me to handle.  It was getting to the point that I dreaded riding time.
Missouri
Fortunately, they gave me a new horse.  Thank goodness.  Something I could handle.  Something that was more suited to a novice like myself.
His name was Missouri and he was about 20 hands high.  Okay that may be an exaggeration, but to me, his 18 hands seemed like 20.
To any non-horse people out there, 18 hands is really freakin' huge … especially to someone about 4 ½ feet tall.
The only way I could get on his back was to climb on a fence or have someone help me.  My feet were nowhere near reaching the stirrups from the ground and my sneak-up-attack-jump-over-the-butt-Roy-Rogers-running mount was not possible at these heights.
I was a tad bit uncomfortable with the situation, but I was a trooper and figured it would all work out for the best.  I was anxious to finally get to ride!
One Slight Delay
… and that riding day did come, not long after my second trip to the infirmary.
It seemed that there were ants in my bed and all the funny red bite marks all over my body that were itching like the devil, were controllable with calamine lotion.
Oh, and a little bug spray in the bed.
Finally, Some Real Riding
There is a huge beautiful green pasture between the riding stables and the lake at Culver Academy.  That was to be our first adventure outside the arena.  How cool!
The instructor had us ride around in circles following one another.
How joyous!  A gorgeous Indiana summer day with the breeze blowing off the lake and the smell of ponies in the wind.  NOW I was in Heaven.
I'm not sure what happened after that …
Much of it is a blur.
I recall my handsome 18 hand Missouri bolting from the circle and heading at an all out gallop toward the lake!  I know it was an all out gallop because my eyes were so pulled back and slanted by the wind that I looked like someone who had just been to visit an over-zealous plastic surgeon.
So there I was, riding like the wind!  Pulling back on the reins with every ounce of strength that I had to try to stop him.
Off in a distance, I could faintly hear my instructor calling out in a somewhat refined manner, "Stop him Miss Tousley."
Well what the hell did he think I was trying to do?  After all, this wasn't MY idea.
So we galloped like that for what seemed like an eternity until when, fortunately, Lake Maxinkuckee put a stop to the adventure.  Fortunately for me, Missouri didn't feel like swimming that day.
Happy Trails
So at that point it seems that it wasn't yet obvious to my instructor that this horse was not for me.
The next day was another day of riding outside the arena.  This time we were to go on a trail ride.  Now that sounded like Roy Rogers if ever anything did.  I was in!
Ah riding through the woods single file with the smell of the next horse's derriere in your face.  Nothing like it.  The clip clop of horses.  The rustle of the leaves in the trees.  I could practically hear Roy and Dale singing "Happy Trails to you" as we rode along.
I'm not really sure exactly what happened next …
I just remember a lot of screaming and galloping and dust flying.  It seemed that something spooked one of the horses in the line.
Of course you then get your domino effect.  Spooking begets spooking which begets spooking and the next thing you know you have an all out stampede.
Right about the time of the spookification, Missouri and I were headed down a slight hill. At the bottom of that hill was a sharp turn to the left at then a steep climb out that lead to a pasture up top.
Missouri reached a full gallop in 0 to .01 seconds and when we got to the bottom of the hill, Missouri went left and I kept going straight.
I landed on the edge of the trail and when I looked up I saw a string of black horses stampeding right toward me.  I dove into the bushes to get out of the way not yet noticing that my tailbone was hurting so bad I could barely walk.
So when the dust had settled and I felt it was safe to come out, I limped my way up out of there and into the light of that beautiful big green pasture.  All of my friends (still on their horses I might add) and the instructor were waiting there patiently.
Glad I wasn't passed out and dying down in the trenches while they took the opportunity to sunbathe.
"Miss Tousley, perhaps you should go to the infirmary to make sure you are okay."
"Oh ya think?" I muttered under my breath.
Anything that keeps me from having to climb back up on that miserable horse.  The infirmary was sounding pretty good.
So back to the infirmary I went where they greeted me by name.
The tailbone wasn't broken … just bruised.
"Horse Nut Gene" Evidence
I'm going to wrap this up by saying that for the couple of days of camp that remained, I was given the best horse ever.  His name was Wally and he was the oldest horse in the stable.  26 years old.  All you had to do was cluck to him and he would start to walk.
Wally, you handsome hunk, where have you been all my riding camp life??!!
So, Mom and Dad's plan worked brilliantly.  Never again did they have to hear me ask if I could have a horse.
Go figure.
Now, this example of complete and total misery was given to provide evidence that a "horse nut gene" must exist.
By process of elimination, if I had the gene, I most likely would not have let my riding camp experience deter me from getting my own horse.
I would have stopped at nothing to have my own horse, much like Stephanie did with Thunder.  Despite all the cuts and bruises and moments of sheer terror, I would have pushed onward relentlessly.
So, there you have it.  Stephanie has the horse nut gene.
I do not.
There can be no other explanation.  Proof positive.
So cut these people some slack.  They can't help it.  They were born that way……….