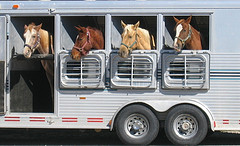 Have you ever wondered if you were making certain choices in your horse keeping that made you look dumb?
Surely the thought has crossed your mind, because it has mine, especially if I'm just learning something new.  It's just a matter of improving my skills and moving forward.
In this video, I'm simply trying to get the attention of horse enthusiasts who, I know, generally have nothing but the best intentions.
Since these two common errors can endanger the lives of our beloved horses, I don't take this subject lightly.  Common sense is often an uncommon thing, and to make it even more critical in the horse industry, we're dealing with creatures that weigh half a ton and can sometimes be scared by a piece of plastic blowing in the wind.
The thing is, we have probably all made these mistakes, or ones similar.  Both of these errors are made quite innocently, but that's why I feel that pointing out the dangers and telling some stories of seemingly safe situations gone bad, can bring the subject to light.
So pull up a chair and watch my brief video.  If you have made these mistakes, or know of someone else who has, I hope this video helps bring awareness.
Please pass this information along to horse lovers and lovers of horse lovers.  I'm not trying to be dramatic, but it really could save the lives of their horses and keep them safer as well.
Keep it soulful,
Stephanie Krahl
####
Photo Credit – original photo modified in size
Related Articles