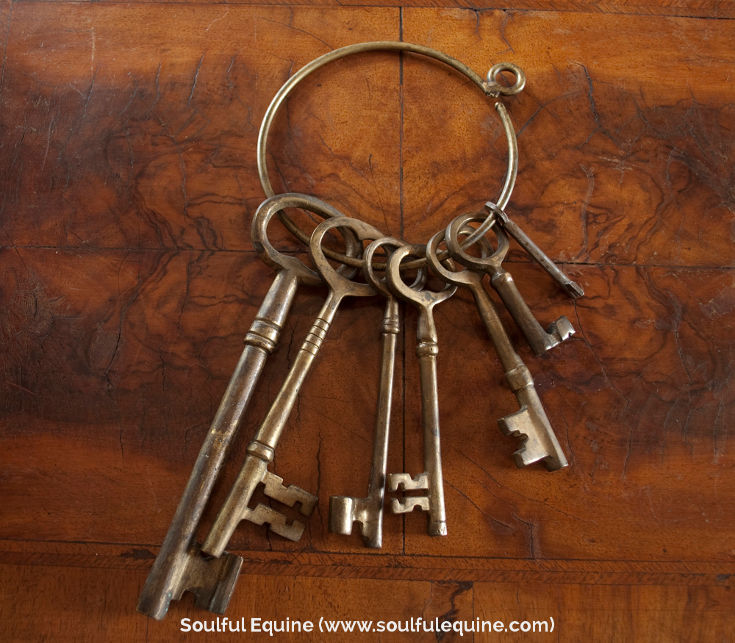 This is the 2nd part in the series
What All Horse Guardians Can Learn from Computer Science
. 
Click here
to read the other articles in the series
Have you ever watched someone whose communication with a horse appeared effortless and harmonious?
What about the person who takes a "problem horse" in hand, subtly builds rapport and very quickly makes noticeable changes in her behavior? What's so special about that person?
Is there really some secret that no one is telling you about?

I believe there are those who innately have a very special bond with horses and, naturally, those individuals long to seek higher levels of connection and partnership with them.
It goes back to the concept of the artist versus the hacker.
However, what if you're not one of those people who have an innate gift of being good with horses, but you really love them and want them in your life?
What skills do you have to develop in order to overcome your fears and reach your goals?  Is there an easy way to win your horse's heart?
Basically, there's no one answer and there's no silver bullet, however, there are certain skills that I consider essential if you want to really enjoy having horses in your life.
In short, it's important to understand that a horse is not a battery-operated toy that works the same way every time… they're predictably unpredictable to say the least.
I don't care how "well-trained" someone says a horse is… it's still a horse and a living, breathing individual whose need for self-preservation can easily take over at any time.
Since there's no cookie-cutter approach when it comes to horses, I believe the most essential skill you can develop as a horse guardian is becoming a great problem solver.
Why Relate Problem Solving To Horses?
Many fields of study require great problem solving skills. Why not horses?
What is the first thing that usually comes out of someone's mouth who's not getting along with her equine companion?
She says, "I have a problem with my horse, and she does xyz."
Food for thought: I'd be willing to bet that if the horse could talk she would say, "I have a problem with my human, and she does xyz to me."
I believe the more you develop your problem solving skills the better you'll understand horse behavior.
Being in the field of technology for so many years has allowed me to develop good problem solving skills.  These skills have easily transitioned over to my world with horses.
If you have great problem solving skills, you can not only calmly and accurately solve problems, but you can also look ahead and prevent a bad situation from developing.  You can apply this fundamental concept to horses and life.
When you're around horses, being able to predict what's going to happen next is critical.
Believe it or not, you can get very good at this skill.
Developing Your Problem Solving Skills
If you're fortunate enough to already have good problem solving skills, then do your best to constantly improve them.  Your horse will love you for it.
However, if problem solving isn't one of your strengths, what do you do?  I've put together 5 steps that will assist you in becoming a better problem solver.
I follow these steps myself and they've served me well when it comes to both life and horses.
Step 1:
Be aware that problem solving and horses go hand in hand. The sooner you understand and accept this, the faster you'll move forward and become better for your equine companion.
Step 2:
Don't depend on others to solve your horse behavior problems. This may sound a little strange at first because what if you need help?  I'm not saying don't seek out help.  I'm saying, don't become dependent upon it.
Seek out quality individuals who truly care about the horse and care about you developing your skills.  If this person is really good, they'll care about teaching you to become a better problem solver.
On that note, seek out an artist not a hacker to help you become what your horse needs.
Step 3:
Learn something new that helps you develop your problem solving skills. Is there something else you're interested in that could help you become a better problem solver?
For example, I've always wanted to learn how to play chess.  I recently started playing and I'm not very good at it yet, but I'm having a blast learning.
The first time I played, I quickly realized it isn't just a game.  Chess requires a lot of focus, problem solving and thinking ahead.  The skills it's helping me to improve can easily apply to horses.
Step 4:
Acknowledge that the problem is usually not the horse. The better you become at problem solving you'll come to realize that the problems you encounter are usually not about the horse at all.
A statement I love by Buck Brannaman is:
Rather than helping people with horse problems, I'm helping horses with people problems."
If you really want to become great for your equine companion, she will force you to go outside your comfort zone and grow as an individual.
Horses really are our mirrors, more so than what most people realize.
Step 5:
Teach your horse to become a great problem solver as well. She will be much better off thinking her way through a problem rather than reacting her way through it.
If she reacts through it, she could get hurt or, worst yet, so could you.
I've experienced this on more than one occasion where one of my horses got herself into a bad situation, but she waited for me to come help her out of it.  She thought her way through it and didn't get hurt.
Not only that, but the partnership between us is such that she worked with me versus against me.
How cool is that?
All I can say is that it's a great feeling.  I wouldn't have it any other way.  Keep in mind that this wasn't something that happened for us overnight.  It took working on our relationship and on myself in order to get those results.
Nothing Worth Having is Easy
Taking on the task of becoming a better problem solver requires a conscious effort on your part, which is not easy.  You would think that such a skill happens automatically, but in reality, it's just like any muscle in the body.  If we don't use it we lose it, or it's mediocre at best.
Problem solving is essential to becoming great for your horse.  It's something you can not only apply to your horsemanship but to your horse keeping practices as well.
All I can say is that it's not easy to develop, but it's well worth the investment.
Keep it soulful,
Stephanie Krahl
####
Photo Credit – original photo modified in size and to include the Soulful Equine name and URL