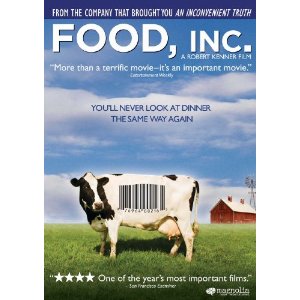 In this article, we take a look at the Academy Award nominated movie Food, Inc. as part of our 2010 Product and Service Review Series.  Nominated for Best Documentary Feature, Food, Inc. examines the highly mechanized and industrialized food industry as it exists today.
Originally released in the USA on April 3, 2009, it took 6 years to bring this movie to the screen.  Director/producer Robert Kenner has done a wonderful job taking the viewer from past to present in terms of the once personalized nature of food to the now profit-driven, corporate-controlled food supply.

Initially, one might think what a wonderful thing the industrialization of food has been.  We're now able to "produce a lot of food on a small amount of land at a very affordable price."  Why wouldn't that be a good thing?
Back in the 1950's, it took 70 days to raise a chicken.  Today, chickens are raised in 48 days and they are twice as big.  Additionally, since more people like to eat white meat, the chickens have been redesigned to have larger breasts.  Progress.  🙂
A Handful Of Companies
Kenner shows that nowadays, there are only a handful of companies controlling the food industry.  For example, in the 1970's the top 5 beef packers controlled 25% of the market.  Today, the top 4 control 80%.   Meat and poultry no longer come from farms, but from factory style, assembly line productions.
Food producers are not the only ones controlling the industry.  McDonald's is the largest purchaser of ground beef in the United States.  By controlling that much of the market, they can pretty much dictate how ground beef is produced.  It's now all about "faster, fatter, bigger, cheaper".
Corn Production
In addition to taking a look at meat and poultry, the film also points out that 30% of our land is being planted in corn.  Corn is used to feed chickens, hogs and cattle and now even to fish.  If you look at the products on the supermarket shelf, you will probably find corn or soybeans (or both) in 90% of them.
So much of our industrial food turns out to be clever rearrangements of corn.
Cows are not designed by evolution to eat corn; they're designed to eat grass.  But because corn is cheap (since the government subsidizes it) and it makes them fat quickly, we feed them corn.
Unintended Consequences
Unfortunately, cows fed diets high in corn result in E. coli that are acid resistant… the harmful E. coli such as the deadly strain called O157:H7.  The run off from concentrated animal feeding operations (CAFO's) contaminates other crops as well, as seen in the recent cases of E. coli in spinach.
Food, Inc. interviews Barbara Kowalcyk, a mother turned food safety advocate, whose 2 year old son Kevin died as a result of E. coli O157:H7.  She has been fighting for years to get a law passed called Kevin's Law that would give the USDA authority to shut down plants with multiple violations of contamination.
If you're like me, you probably thought the USDA already had that authority.  They did, initially, until the meat and poultry associations took the USDA to court and won.  So Barbara still fights to get the law reinstated nine years after her son's death.
If you take feed lot cattle off of their corn diet, give them grass for 5 days, they'll shed 80% of the E. coli in their gut.
Instead of looking at the current process and thinking perhaps it would be best to go back to what Mother Nature intended and feed cows grass, big business instead resorted to ammonia as a "processing tool". Food, Inc. goes inside a Beef Products Inc. (BPI) facility and films hamburger meat filler (cleansed with ammonia to kill the E. coli) being boxed and prepared for shipment to consumers around the country.
Joel Salatin of Polyface Farms in Virginia
Some of my favorite parts of the movie are those that include Joel Salatin.  He is the owner of Polyface Farms, "a family owned, multi-generational, pasture-based, beyond organic, local-market farm and informational outreach in Virginia's Shenandoah Valley".   They produce beef, pork and poultry.
His matter-of-fact demeanor and knowledge of his business are entertaining, educational and eye-opening.
A culture that just views a pig as a pile of protoplasmic inanimate structure to be manipulated by whatever creative design the human can foist on that critter will probably view individuals within its community, and other cultures in the community of nations, with the same type of disdain and disrespect and controlling type mentality. ~Joel Salatin
Wal-Mart Good?
Another interview in the film that woke me up to face reality is the one with Stonyfield Farm's founder and CEO Gary Hirshberg.  He addresses how so many of the large corporations are now getting involved in organic and how his environmental buddies are horrified when they find that he now keeps company with the likes of Wal-Mart.
But my eye-opener came in this statement from Gary when he explained what "the impact of one purchase order from Wal-Mart is in terms of, not pounds but, tons of pesticides, tons of herbicides, tons of chemical fertilizer."  He goes on to say that no one can debate the fact that a Stonyfield "sale of a million dollars to Wal-Mart helps to save the world."
Genius.
90% Of Soybeans Are GMO And Owned By One Company
This story is one of those "Silkwood" / "Erin Brockovich" type stories.  When you see the movie you'll understand what I mean by that.
Essentially, if a farmer decides that he doesn't want to plant GMO soybeans, this company will most likely investigate and prosecute him.  For what you ask?  For patent infringement.  Chances are… pollination from nearby GMO farms has contaminated his crop.  It's then up to that one small non-GMO farmer to prove that he didn't willingly violate the patent and to defend himself against a multi-national corporation.
Are you surprised to find that the farmer usually loses or gives up?
Revolving Door Between Big Business & The Regulating Agencies
This part of the movie shouldn't have surprised me at all, but it did.  The extent to which businesses and the agencies that regulate them are in bed together is mind-boggling.  Why isn't more being done about this conflict of interest?  Where's the media when these things are going on?
Kenner gives several examples, but the one that struck me most was Michael Taylor.
Michael Taylor's credentials below:
(1984 – 1991) King & Spaulding Lawyer – Client Monsanto – Advised Monsanto on genetically modified food labeling.
(1991 – 1994) FDA Deputy Commission For Policy – Oversaw FDA's decision not to label genetically modified foods.
(1998 – 2000) Monsanto Vice President for Public Policy
Is it just me, or is this scary?
Veggie Libel Laws
Who knew such a thing existed?  This came as a surprise to me too, but it really shouldn't have since the whole Oprah / Texas Cattleman lawsuit was based on these.
The Veggie Libel Laws are laws passed in 13 U.S. states that make it easier for food producers to sue their critics for libel.  These laws typically allow a food manufacturer or processor to sue a person or group who makes disparaging comments about their food products.  In some states these laws also establish different standards of proof than are used in traditional American libel lawsuits, including the practice of placing the burden of proof on the party being sued. (See Wikipedia for Food Libel Law information)
Funny that it's okay to burn the American flag, but it's not okay to say something disparaging about ground beef.  What's that document?  Oh yes, the Bill of Rights and the First Amendment…  must not apply to those with power and money.
Sound un-American?
In Colorado it's a felony if you're convicted under a veggie libel law, so you could go to prison for criticizing the ground beef that's being produced in the state of Colorado.
Summary
Although often horrifying and gut-wrenching, Kenner ends the movie on a positive note by giving people ideas of what they can do to make a change or difference.  He does this on screen with written ideas fading in and out as Bruce Springsteen sings "This Land Is Your Land" in the background.  A nice and powerful touch.
Food, Inc. is about 90 minutes long and it's packed with mind-blowing information.  Not only is it educational and something everyone in America should see, but it's also entertaining and done very professionally.  I can't recommend this movie enough.  I only wish I had seen it sooner.
If you have seen it, or after you see it, I would love to hear from you and get your thoughts and comments.
Valuable Information
Soulful Equine Related Articles
Disclosures: This article contains affiliate links.