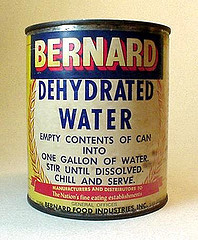 Today I'm going to get up on my soapbox a little bit.  I've addressed the importance of product ingredient awareness in a previous article I wrote called Canine Diets And Their Ingredients.
This article takes a slightly different approach and looks more at the importance of label reading as it relates to changes in ingredients. Subtle changes from high quality to inferior ingredients by companies who have had a reputation of providing "safe" products that "promote health and well being" is not only a pet peeve of mine, but it could be a danger to trusting customers as well.

Sometimes this changing of ingredients can be for the better but, unfortunately, that seems to rarely be the case.  When the change is for the better, the company usually doesn't hesitate to talk about the "new and improved" formula and its benefits.  When the change isn't for the better, like switching to inferior ingredients, the company rarely mentions it and tries to sneak the change in, hopefully, unnoticed.
My Experience
This "covert" changing of ingredients in a trusted product recently happened to me.  I have been a long time customer of Jason Cosmetics' Aloe Vera 70% All-Over Body Lotion.  I loved the non-greasy formula and the fact that it was 70% organic and free of mineral oil, petrolatum, waxes and paraben.
I was just about out of the lotion so I recently ordered some more.  When it came time to open the new bottle, I was surprised to find that the smell was much different… not bad really but different.  Then to my chagrin, when I applied some I could tell immediately that something had changed.  It felt greasy and it didn't soak in like the stuff in the old bottle.
So I started comparing the two bottles side by side.  Here's what I found:
Old Bottle:  First three ingredients – aloe vera leaf gel, lavender extract and purified water.
New Bottle:  First three ingredients – purified water, aloe vera leaf gel and vegetable caprylic/capric triglyceride.
As Yoda would have most likely remarked… watered down it was.
Additionally, the label that used to say "70% organic" on the front of the bottle had been replaced with one that just said "natural" instead.
Now granted, this isn't a life endangering change.  It's simply another example of companies compromising quality for the bottom line.  The price to me was still the same, although I know water doesn't cost as much as aloe vera leaf gel.
Further Cause For Concern
It was equally disappointing to find that Jason Cosmetics, who claims on an old bottle of roll on deodorant to contain " no propylene glycol" (knowingly a good thing), puts propylene glycol in many of its stick deodorants… as the number one ingredient.
According to the Environmental Working Group (EWG), propylene glycol is "called a humectant (a substance that promotes moisture retention) in cosmetics, it is really industrial anti-freeze and the major ingredient in brake and hydraulic fluid.  It absorbs quickly and is a penetration enhancer which means it increases the absorption of other ingredients through the skin."
The reason to avoid it is that "tests show it can be a strong skin irritant, causing allergic reactions and acne, and may cause liver abnormalities and kidney damage."
So the fact that a company I previously thought (dare I say assumed?) had quality products and quality ingredients is now using anti-freeze in their deodorant and watering down their lotion tells me that I can no longer feel confident in using their products.
In Jason's defense, many of the so-called "natural" personal care product companies use propylene glycol in their stick deodorants.  There are some that do not.  I, myself, will be more diligent about reading deodorant ingredient labels in the future.
My business partner, Stephanie, told me that on more than one occasion, she has found that some of the horse products she was using subtly changed to inferior ingredients as well.  At that point, a serious health-minded person has no choice but to stop using them and look for an alternative.  Which is what she did.  Stephanie stressed the importance of reading product ingredients in her article Garlic For Horses – A Natural Repellent?
What To Do?
So, what can you do about these changes in ingredient quality?   Unfortunately, other than reading every label every time, you really can't be sure… and this doesn't even bring in the aspect of the sourcing of the ingredients.  Are they coming from the USA or somewhere else? China?  In my opinion, anything from China should be a red flag.
In addition to becoming diligent about reading labels, one resource I have grown to trust and rely on is the Environmental Working Group's (EWG) website.  They are a non-profit organization whose mission is to "use the power of public information to protect the public health and the environment."  Links to their information will be provided at the end of this article.
The EWG has great resources like a database called "Skin Deep" which is a safety guide to cosmetics and personal care products.  You can look up companies and specific products to see what ingredients they use and whether their hazard level is low hazard, high hazard or somewhere in between.
They also have other resources called the "Shopper's Guide to Safe Cosmetics" and the "Shopper's Guide to Pesticides in Produce".
So, I would recommend becoming familiar with the EWG's website and becoming a diligent label reader.  Then, when you find something that disappoints you, let the company know.
I called Jason Cosmetics and made sure to tell them my trust had been violated and that I no longer felt confident in using their products.
The customer service lady was very nice, but she told me that they started adding propylene glycol to the deodorant because people complained it didn't work.  My point to her was that health conscious people know that there will sometimes be trade offs and compromises when you choose health over convenience.  The solution is not to start adding a hazardous chemical to the product.
Instead, I suggested that they hold fast to their convictions and tell those dissatisfied customers that perhaps they would best be served by using a product with ingredients like those in Secret or Right Guard.  But then, that would hurt their bottom line right?
What's Your Experience?
Have you found this to be the case in any of the products you use?  Or perhaps you have had a more positive experience where a company improved the quality of their product.  In either case, I'm sure our readers could benefit from your experience as well, so please feel free to share by leaving a comment below.
Where to find the educational information from this article:
####
Photo Credit – original photo modified in size