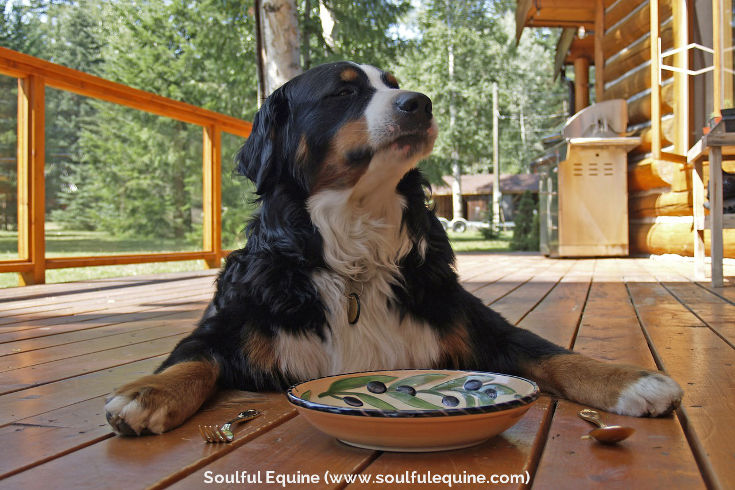 Today is doggie day.  It's time to take a look at what we are feeding our canine companions.
There are many more choices out there now and although that is great in some respects it can also be very confusing.
Canned?  Dried?  Raw?  Fresh?  Frozen?  Dehydrated?
What ingredients should you WATCH for and what others should you WATCH OUT for?

First know that all dogs are unique.  What might work for one dog won't necessarily work best for another.  Additionally, dogs with such conditions as diabetes, kidney problems, pancreatitis or food allergies have more restrictive dietary requirements than the average pet.
According to most of the natural dog journals out there, the order ranking from best choice food to worst choice food for the average dog diet is:
Well-researched, well-balanced home-prepared species appropriate diet comprised of fresh foods
Well-formulated, commercially made frozen raw or dehydrated diet
Top quality wet food.
Dried kibble
The home-prepared diet is the best choice.  You have more control over what goes into it, you know the freshness of the ingredients and you can vary the ingredients as well.
Feeding a home-prepared dog diet that consists of raw meat requires some diligence to make sure that it is balanced and includes the necessary nutrients your dog needs.  Such information is far too detailed for this post, but to find more information you can go to the Raw Meaty Bones website or check out Dr. Karen Becker's Real Food for Healthy Dogs and Cats: Simple Homemade Food.  She does an excellent job of explaining and balancing the ingredients.
Home-prepared diets can also consist of cooked meats, but cooking can destroy vital nutrients and make meats harder to digest.  Many argue that this is still a better choice than any commercially prepared food.
Preparing meals at home can be time intensive and may not fit in with certain lifestyles.  In this case a commercially prepared raw or dehydrated diet would be next best.
Many different products exist for raw frozen and dehydrated foods.  Most importantly, research the product well and make sure it is considered "complete and balanced."  Some frozen foods just include the protein source and you have to add everything else.
Dehydrated products are usually complete and balanced but there are some that require the addition of meat.  Overall, though, you just add water, wait and feed.
If, for some reason, neither of the above choices are for you, then there is also top quality wet (usually canned) food and dried food (kibble).
Kibble is always the last choice.
Because dry food ingredients are cooked twice, problems are much more common than with canned or homemade dog diets.  Proteins are especially vulnerable to heat, and become damaged when cooked.
So if you decide to feed a processed food, there are certain ingredients to look for and to look out for.
Good Ingredients:
Animal protein as the first and second ingredient… whole meats, not meat meals (unless specifically stated as "human grade").  The animal source should be named, such as chicken, beef, lamb, etc.  Generic terms like "meat" and "animal protein" are lower quality ingredients and could include just about anything.
Whole vegetables, fruits and grains… preferably no food fragments.
Specifically named fats and oils such as chicken fat, herring oil, canola oil, sunflower oil, flax oil etc.
Good preservatives such as Mixed Tocopherols (Vitamin E), Rosemary, Sage, or Clove Extract, Ascorbyl Palmitate, Ascorbic Acid and other forms of Vitamin C
Ingredients to Avoid:
Generic meats that do not include the specific animal source.
"Meat meals" which are rendered from animal tissue.  "Rendering" uses high temperatures to dry the material and separate the fat from the protein and bone.  There are no laws or regulations preventing rendered meat from including pets and roadkill and the so-called "4D" animals (dead, dying, diseased, disabled) are still legitimate ingredients.  Meat meals can also contain hormones, drug residues, euthanasia solution and preservatives.
Some companies, however, do use "human grade" meat sources for their meals and should be of good quality, so be sure to fully research the product's ingredients before purchasing.
Meat or poultry by-products.  By-products are clean parts of slaughtered animals, not including meat. These include lungs, spleen, kidneys, brain, liver, blood, bone, stomach and intestines freed of their contents. It does not include hair, horns, teeth, or hooves.   Obviously, some by-products, such as the liver, are very nutritious, but generally by-products are considered to be the much less nutritious parts such as heads, feet, fat trimmings, unborn babies, and other parts not generally consumed by humans.
Processed grains
Corn gluten or soy(bean) meal as main ingredients. Not all dogs tolerate soy products.
Non-specific sources of fat and oil such as animal fat, poultry fat, vegetable oil, generic fish oil and mineral oil.
Artificial flavor enhancers like phosphoric acid.
Artificial preservatives such as BHA (Butylated Hydroxysanisole), BHT (Butylated Hydroxytoluene), Ethoxyquin, Propylene glycol, Propyl gallate, TBHQ (Tertiary Butylhydroquinone) and Sodium Metabisulphite
Added sweeteners such as cane molasses, corn syrup in any form, sugar, sorbitol, sucrose, fructose, glucose and ammoniated glycyrrhizin
Coloring agents such as azo and numbered dyes as well as color preservatives such as sodium nitrite.
This information is provided at a high level.  Before you decide what diet type and food is right for your dog, please research the above information in more depth.
Many "common" ailments experienced by dogs such as skin allergies, digestive problems, dental problems, etc. can often be eliminated through diet.  I am a big proponent of raw food dog diets, but there is too much information you should know before beginning for me to provide here.  Go to the Raw Meaty Bones website to get more information.
Remember no one food works for all dogs.  Also in order to guard against imbalances, it's always a good idea to switch foods regularly.  This way the effects of insufficiencies and excesses can be minimized.
One note I would like to add that I have recently found to be true with my dogs – mine don't do well on grains – even whole grains.  Both of my dogs are relatively new family additions and I'm still slowly transitioning them from canned/kibble to home-prepared.  They had skin allergies when they came to us, and I've found that a product called Missing Link helped quite a bit but the next noticeable improvement in their scratching came when I started buying only grain-free dog food.  If your dog struggles with skin allergies you might give it a try.
Canine Natural Diet Resources
Dog Food Grocery List – What To Look For & What To Avoid
For your convenience, we have provided a summary of what to look for and what to avoid when shopping for dog food:

Click Here To Download the Dog Food Grocery List in PDF Format

Note: If you have an equine companion, you may be interested in a related article Feeding Commercial Horse Feeds – What To Consider