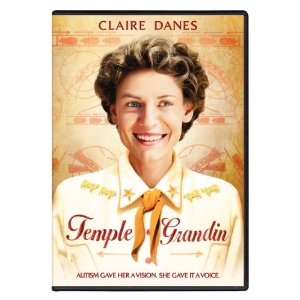 In one of my previous articles called When the Experts Fail Us, I addressed how the health care industry for humans, and for our animals, has failed us on numerous occasions.  I gave personal examples as well as mentioning one very famous example, a very special lady named Temple Grandin.
HBO came out with a movie in 2010 about her life, and I'd like to offer a short review that may encourage you to see it if you haven't already.

Let me start by saying that if you love true stories that seem to have endings better than anything Hollywood could have made up (a la Seabiscuit), then you're gonna love this HBO movie.
Viewing the movie wasn't just entertaining for me, it was also an incredible learning experience.  It opened my eyes to how our animals are treated and to how important it is that we never simply accept the advice of the so-called experts.
I won't review the movie in great detail, but I'll touch on some highlights that have stuck with me ever since I saw it.
The story is essentially about a girl named Temple Grandin (played by Claire Danes), born in 1947 and who, by the age of 4, still wasn't talking.  She was eventually diagnosed with autism, and it was recommended that she be institutionalized.  Temple's mom never accepted the medical experts advice and, instead, she did everything in her power to teach her daughter to speak.
When Temple did start speaking, her mother forced her to go to school.
I never really forget, but watching this reminded me, how cruel kids can be.  The ridicule and teasing that she encountered in her lifetime is something most of us never even come close to experiencing.
After being kicked out of another school, Temple was eventually sent to a boarding school for emotionally disturbed children in New Hampshire, and it's there that she met Mr. Carlock, a science teacher.  Mr. Carlock motivated Temple to study and realized her abilities.  One day he asked her,
Can you bring everything you've seen to your mind?"

To which Temple replied, "Sure… can't you?"
From there she went on to get her bachelor's degree and then her master's degree in animal science from Arizona State University.  While studying for her master's she spent a lot of time at a cattle feedlot in the area and met with more cruelty and prejudice, but she rose above it, and outwitted them all.
While at the feedlot she closely observed the cattle and noticed that they liked to move in circles.  She became intrigued and was able to notice things that no one else could.  Her heightened sensitivity to sounds and colors helped her visualize what the cows would see as they moved through the chutes.
Cattle are prey animals and my autism allows me to understand prey animals well.  I can visualize the flight zones of cattle."
Of course her attempts to convince the good ole boys, who already thought they knew it all, are some of the best parts of the movie.
Spooked cattle don't act straight.  They get bruised, scraped, drowned, and that all costs money…  It's not a good way to run a stockyard.  I believe what's good for cattle is also good for business."
Temple went on to get her doctoral degree in animal science from the University of Illinois.  She's now a professor at Colorado State University and she is considered a leader in both the autism advocacy and animal welfare movements.
The end credits of the movie point out that "In North America, over half the cattle are handled in humane systems she has designed."
To be an animal lover and not be aware of all she has done for their humane treatment is unimaginable, yet that's where I was a few months ago.
I came across a movie description that said it was about animals and decided to rent it.  When I first put it in the DVD player I really didn't expect to make it all the way to the end.
Honestly, I was mesmerized and watched glued to my seat until the credits rolled.
It's a great movie about an incredible person who would have lived her life like a speechless "crazy person" had it not been for her mother who refused to listen to the "experts."
Do you think we'd have cattle if people didn't eat 'em every day? No, we raise them for us.  That means we owe them some respect.  Nature is cruel, but we don't have to be."  ~ Temple Grandin
The movie won several Emmys, including Outstanding Lead Actress in a Mini-Series or a Movie by Claire Danes, and she also won a Golden Globe for Best Performance by an Actress in a Mini-Series or a Motion Picture Made for Television.
If, like me, you are longing to learn more about Temple and read some of the books she's written, below are some resources for you: