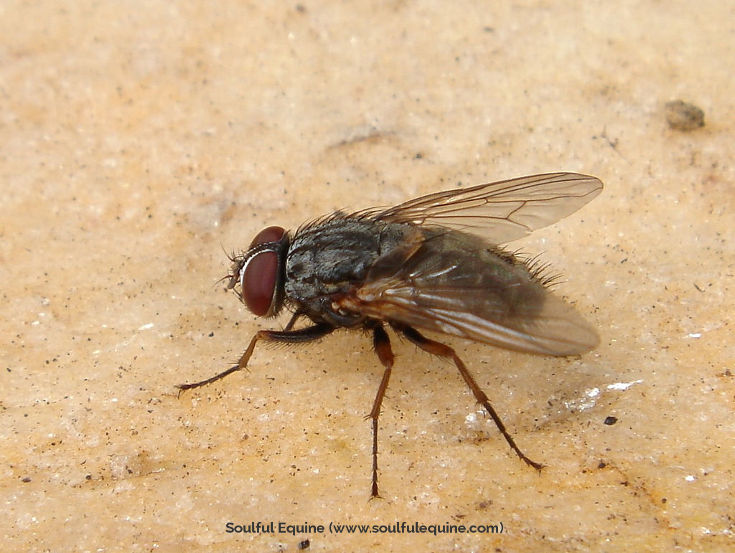 Although springtime is a beautiful time of year, it also brings with it those pesky little creatures you and your horses hate so much… flies.
Many equine guardians struggle with fly pest control, and those who truly love their horses want to do what they can to decrease or eliminate these pests in a natural and non-toxic manner.

One thing to keep in mind is that when Mother Nature is in balance, pests aren't often as big of a problem.  For example, an inappropriate and unnatural diet causes poor quality manure which can attract more flies.  So often people find that just by implementing a natural horse care program they can significantly decrease or even eliminate the fly population.
Remember: crappy diet = crappy poop = crappy flies.  🙂
But, in case you haven't implemented a natural horse care program yet and flies are a problem, or even if you have your horses on a natural program and flies are still an issue due to the practices of your neighbors, fly predators are a great way to get that fly population under control.
Below is my video with a few tips on using natural fly predators in an organic fly pest control program:
Keep it soulful,
Stephanie Krahl
Resources For More Information
This is my past article with detailed information on a non-toxic fly control program.
Fly Predator / Parasite Information and Where to Find Them
Note – Many companies give discounts at the beginning of fly parasite release season, so if you're interested make sure to place your first order before their discount programs end (depending, of course, on what area of the country you live in and what your climate is like at the time).
####
Photo credit – original photo modified in size and to include the Soulful Equine name and URL