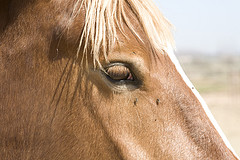 At Soulful Equine, we believe in non-toxic approaches to most anything we do when it comes to our horses, pets and our health.  As I stated in my article "Parasite Resistance In Horses And Chemical Deworming", we must pay attention to anything that could compromise our horse's immune system.
Heavy usage of toxic chemicals for fly control is not only unnecessary but is harmful to your horse's health and to yours.  It also contributes to the environmental issues of using chemicals.

I believe that whenever it is within our control to use or not use chemicals, we should not use them.  Keep in mind that we encounter large numbers of toxins in our environment just by breathing and being alive.  However, anytime we have the opportunity to minimize the effect it has on us and our horses we should take that responsibility seriously.
I put together a short video on fly control for horses using a non-toxic program.  Please listen to the entire video even if you already have a program in place.  You never know, you may pick up a few extra tips.
If you have any other non-toxic fly control tips or products you have used, please share that information in our comments section.
Fly control for horses using a non-toxic program
Minor correction to note from the video that has to do with the fly predators / parasite cycle:
Keep it soulful,
Stephanie Krahl
Resources For More Information
Fly Predator / Parasite Information
Fly Traps (Both Sticky and Attractants)
Fly Sprays
Note: This section may be updated if I test out other fly sprays and find that I like them.
If at all  possible use fly sprays that are approved for use on certified organic farms.  I look for fly sprays that are non-toxic, effective, and do not leave a greasy residue.  I have tested many different "natural" fly sprays and still go back to the ones listed below.
I will continue to test others I come across and keep you updated.   Some people make their own fly spray and you can do that as well if you find something that works for you.  A few I have used and like that do not leave a greasy residue are as follows:
####
Photo Credit – original photo modified in size