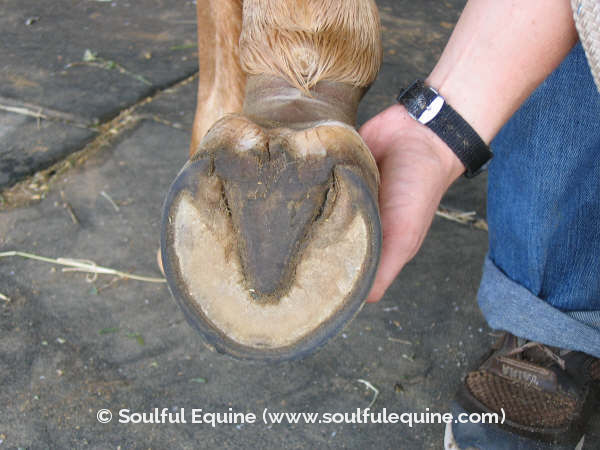 Ransom's Hind Hoof as a Yearling
In part one of this series on learning to trim your own horse, I covered in detail practical guidelines to consider before fully making a commitment to such an endeavor.
For those diehards who would like to make the leap and learn how to trim using the wild horse as their model, you're in the right place.  However, if you haven't read my last article, I would highly recommend you read it first.

When I first started researching natural hoof care in 2002, I felt like I was somewhat in the dark and didn't know where to turn.  I was determined to help my horse Dillon turn his lameness around.  He was in his mid teens at the time and had been in shoes most all of his life.
Back then, the barefoot movement was not as strong as it is today and yet, even with the wealth of information available, the multitude of horses who've been rehabilitated, and the enhancement of performance horses by going barefoot, so may sceptics still exist.
I hope I can help you make the leap a little easier so you can have more success in half the time it took me.
How I Got Started Using Natural Hoof Care
Many years ago, I was much like you.  I knew I needed to do something different or my horse would continue to be lame.  When I think back I remember I felt like there was something pushing and guiding me to find the answers.
Out of all the information I stumbled upon, I found Jaime Jackson's book Horse Owners Guide to Natural Hoof Care (HOG)
.  This was the main book before the other books on natural hoof care were published.
As I look down at my copy of the HOG sitting on my desk, I feel gratitude because it's the source of information that got me started.  It shows its age with its beat up cover from my carrying it out to the barn in those early years and all the sticky notes protruding out of it.
I used that book to get started and also purchased Jaime's book called The Natural Horse,
which contains his research on wild horses that I feel everyone should read.
The HOG is what got me started along with all the bulletins Jaime Jackson published on his website.  I devoured every bit of information I could get my hands on.  I was determined and committed to help my horse.  My desire, passion and love for learning caused me to make a change and take action.
Later on in the fall of 2003, Pete Ramey's book Making Natural Hoof Care Work for You
was published.  It was an excellent complement to the HOG.
I consider Jaime the founding father of Natural Hoof Care.  To this day, I'm thankful that he didn't give up his beliefs despite the backlash he received in the early days before the term "Natural Hoof Care" was in our vocabulary.
From there it's all history and I am where I am today because of my burning desire to not give up, to not get frustrated and to commit to improving my skills and obtaining more knowledge.
Despite All the Challenges, You Still Want to Learn? So Where Do You Start?
If you got this far in my series, you're probably one of the few dedicated individuals cut out for learning the wild horse trim and trimming your own horse.  Below are my recommendations on getting started.  The order is important depending on your situation.
Final Thoughts
Although this article is packed full of information, I hope it helps guide you in your natural hoof care journey.  The information I provided is by no means a comprehensive list of the "ins and outs" of learning to trim your own horse, so please use this as a starting point and go from here.
I would love to hear from you about any challenges you've had on your journey of learning to trim your own horse.  Sharing your experience in the comments section can help others with their struggles and confusion.
If you have specific questions and need someone to talk with I offer one on one coaching.
Keep it soulful,
Stephanie Krahl
####
Recommended Reading
For learning more about a healthy barefoot horse, I highly recommend the books below. You can view my other book recommendations by going to our Amazon Store where I hand selected books for continued education: Soulful Equine's Recommended Books.  You can't go wrong by adding at least one of these books to your equine health care library.