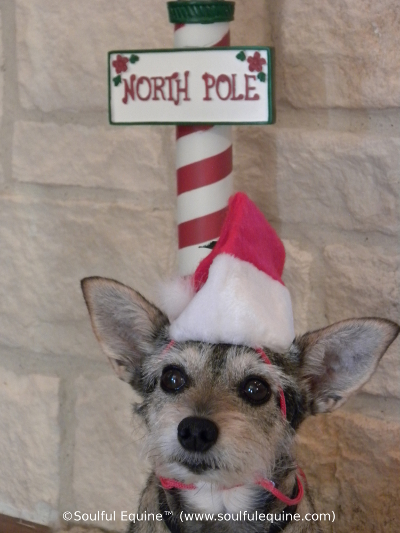 Sharon's Wonderful Idgie [1997-2010]
Here's something different for you today.  My wonderful partner in Soulful Equine, Sharon Tousley, wanted to share this beautiful true story about faith during this holiday season.  To your enjoyment, and happy holidays, Stephanie.
####
Are you familiar with that feeling of doubt – that feeling many of us have had when it comes to stepping outside the norm and learning not to care what other people think?
Some of us experience it more often than others, but I'd be willing to bet that all of us have felt it at least once in our lives. It's such a different feeling from the feeling we get when we have confidence in ourselves or in our beliefs.
Isn't it fantastic when you feel good about your convictions on a subject … when you know without a doubt that you're right?

I remember feeling that way on one particular subject many, many years ago. I was convinced beyond a shadow of a doubt that I was right and anyone who tried to tell me otherwise was in for a big argument. I was so convinced that I was ready to physically fight someone just to make my point.
I'm sure that once you know what this subject is – that you will nod your head in agreement and say, "Ah yes, a subject as serious as that deserves to be defended to the death."
And that subject, my holiday friends, is Santa Claus.
Alas! How dreary would be the world if there was no Santa Claus! … There would be no childlike faith then, no poetry, no romance to make tolerable this existence."  ~  Francis P. Church, New York Sun, September 21, 1897
My dad used to refer to him as "that fat fuzzy fart," a comment that simply horrified me. I used to try to disassociate myself from Dad's derogatory remarks in hopes that Santa wouldn't apply that whole "guilt by association" thing to me. Just because he was my dad didn't mean that I felt the same way about Santa Claus as he did.
Surely, I thought, Santa would still bring me presents despite the fact that my dad was destined to get a lump of coal. And each year I did get presents, lots of presents. But my dad never did get a lump of coal – proof to me that Santa was a forgiving person despite the whole naughty and nice list thing.
So, as you see, I honored Santa Claus with all my heart. I think my mom and dad were amazed, quite frankly, at just how seriously I took it. I was an only child, so I never had older siblings telling me that there was no Santa Claus.
I did, however, have friends who tried to tell me this. I'll never forget when I was about 7 years old, standing on the sidewalk outside my grandma's house and yelling at Kevin (another 7 year old supposed friend of mine) who was determined to turn me into a non-believer.
I remember having my hand curled into a fist at my side  just waiting for the right opportunity to unleash it on Kevin's face. I was furious that he could even think that there was no Santa Claus, but to try to convince me of this was more than my 7-year-old heart could bear. This meant war, and I was ready to let him have it. Granted I was probably a full foot shorter than he, but this was serious stuff and I was ready to start pummeling him if I had to.
I don't remember now how we escaped an all out fight. I can't recall if he recanted his sacrilegious comment or if my grandma came out and broke us up, but we both escaped with everything intact, including our individual beliefs about Santa Claus.
There was yet another time at an even younger age, when I was worried about honoring Santa's wishes properly. Mom, Dad and I used to go out to my grandma and grandpa's house every Christmas eve. This one particular Christmas eve, I was probably about 4 or 5 years old. It was already dark and we were driving back home. I can still remember it like it was yesterday.  The sheer and utter terror. Oh, the humanity!
We were driving along a country road headed back home when my dad looked out the car window and what to his wondering eyes should appear? There in all his glory was Rudolph boldly pulling Santa's sleigh. I know it was Rudolph because Dad told me it was. All I could see was his glowing red nose high up in the night sky, but that was all I needed to send me into a state of panic.
There I was not only NOT ASLEEP as I was supposed to be, but I wasn't even home! What if Santa got there before us? What if he saw that I wasn't in bed fast asleep? There would be no toys for sure.
Oh I was in such big trouble.
I kept trying to get Dad to drive faster. When we finally got home, Mom has since told me that she and Dad had never seen me jump into my footed pj's and dive into bed so fast.
I don't know if you've ever noticed, but those water towers with the red lights on top really do look a lot like Rudolph pulling Santa's sleigh. To this day, I still feel a little queasy when I spot one at night around Christmas time.
So as you can see, I was definitely "a believer." There wasn't an ounce of doubt in me. I knew there was a Santa Claus and anyone who tried to tell me differently was in for a world of hurt.
I still look back on that faith that I had and am amazed by it. I know there are people out there who resent being "lied to" about Santa Claus. I've never personally met any of them to my knowledge, but supposedly they exist.
This "fabrication" by my parents has provided me with numerous, wonderful memories that I truly treasure. It has gone on to teach me many lessons in my adult life as well – about faith and forcing your beliefs on others.
Above all, it has shown me how far true believers are willing to take the defense of their beliefs, so much so as to do harm to others who don't believe as they do.
It's important to remember:
Faith is belief that is not based on proof."
I had no proof that there was a Santa Claus and yet I was willing to go to war with Kevin to safeguard that belief. In my defense, I was but a child.
As an adult now, I no longer believe in Santa Claus, but what I do believe in, is everyone's right to believe as they choose.
So during this Christmas and Hanukkah season, I wish you the faith of a child, and the compassion of a grown-up for those who believe differently than you.
From all of us at Soulful Equine … Merry Christmas and Happy Hanukkah!