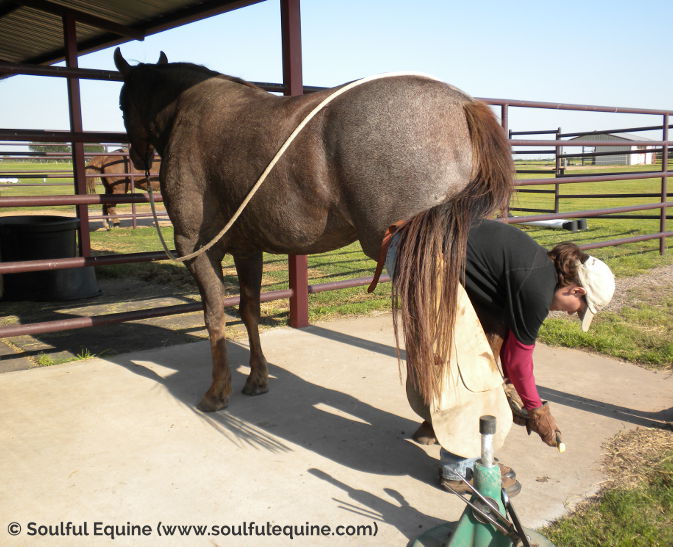 Stephanie Trimming Ransom
How's your relationship with your hoof care provider?
Growing up on a farm in a rural area is kind of like living in Mayberry on the Andy Griffith Show.  Everyone's pretty friendly and most of the town knows each other.  You may personally know your mail carrier and you treat them almost like part of the family.  You may even leave them some chocolates in the mail box around Christmas time to express your gratitude.
So, do you feel that way about your hoof care provider?  Do you feel compelled to show her your gratitude?
If not, then you may want to rethink your relationship with her.
You don't have to give her a box of chocolates to show your appreciation; however, your actions can be just as good.
Since your horse's soundness is the most crucial ingredient in her over all health and well-being, it's essential to have a great relationship with your hoof care specialist.
That doesn't mean that you have to be best friends, but it's important that you have mutual respect for each other and work as a team in your horse's health.
Since I provide natural hoof care services, I'm on the other side of the fence, and for me it's essential to have a great relationship with my customer.  That being said, it works both ways.
So what are some simple changes you can make that will cause a shift for the better in your relationship with your provider?
Simple Strategies for Creating Mutual Respect
Rapport and respect are not only critical ingredients for you and your equine companion, but for you and your hoof care specialist as well.  Without rapport, there will be no mutual respect. Building a strong relationship with your provider will reap benefits for your horse.  Although these concepts are common sense, they're not common practice.
Here are a few strategies to consider:
Be on time. Be respectful of your hoof care provider's time.  Remember that she's in business for herself and, although you're important to her, she has customers other than you.  If for any reason you know you'll be late, then give her a call.  She may be able to work on another horse before stopping by your place, but do your best to give her plenty of notice.  Keep in mind that horses are predictably unpredictable, so if your provider is late, be as flexible as you can, within reason.  On the other side of the coin, I feel it's important to give my customer a courtesy call if I'm going to be a little late.  The simple action of picking up the phone to make that call, or texting, can go a long way on both the rapport and respect scale.
Have your horse caught. One of the most respectful things you can do is have your horse caught and ready for your hoof care professional.  There are exceptions to this, but as a general rule, have her ready.  You would be surprised by how often a customer doesn't have her horse ready for her provider.  Even worse, the hoof care professional may be expected to go fetch the horse from the pasture herself.  Please don't be that person.  If you're a hoof care provider you may want to consider charging extra for this service.  This relates to #1 and being respectful of your hoof care specialist's time.
Prepare your horse for hoof care. Although most natural hoof care providers have good horse-man-ship skills, that doesn't mean they're responsible for training your horse to have her feet handled.  Not only is this unfair to the hoof care professional, it's also unfair to your equine companion.  It's not your horse's fault if she's not prepared and it's not up to your provider to prepare her.  I'm a big proponent of either turning a client down for a trim or charging more for a horse that hasn't been fully prepared.  Some of the worst horses I've worked on have been owned by "trainers" who feel foundational training is not important.  Many times this is why conventional farriers will tranquilize a horse for a trim, which is not ethical, but occurs quite frequently.  If you don't know how to prepare your horse, then seek out competent assistance.  Sometimes your hoof care provider may offer an additional service of preparing your horse.  This can be a good option.
Be empathetic. Although it may look easy for a seasoned professional to trim or shoe, understand that it's not a walk in the park.  The service your hoof care professional is providing is dangerous and requires a certain level of physical fitness and horse-man-ship skills.  Additionally, if your horse doesn't stand quiet for her hoof care then it can take longer for your provider to finish the job, so don't expect her to rush but do expect to be charged extra if the situation warrants it.  This goes back to #3 – preparation.
Understand that what you pay is not all profit. Despite what some may think, there are expenses involved when someone provides hoof care services.  With gas on the rise, don't be surprised if you see professionals start to tack on a trip fee.  Not only is gas an expense but also continuous tool replacement.  I once had someone complain to me about what a conventional farrier charged her for a shoeing (of course my answer was to go barefoot) but, in all honesty, I felt that price was reasonable.  So next time your natural hoof care provider charges you a little extra for materials, horse handling or a trip fee, understand that although she may love horses, she's in business and is not a charity.
I hope these simple tips will help you build a better relationship with your hoof care professional.  Even if you just implement one or two of these principles, it will go a long way with your provider.  You will more than likely watch your relationship with her change before your eyes if you're consistent with your actions.
What Do You Think?
If you're a hoof care specialist or a equine guardian, do you have anything to add to these 5 strategies?
Keep it soulful,
Stephanie Krahl
####
Photo Credit – Stephanie and Ransom (after Ransom rolled in the mud)