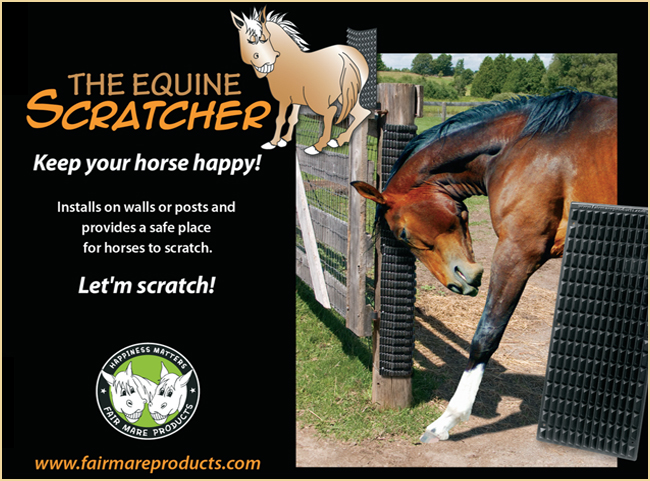 You probably have horses that love to scratch as much as ours do.  Sometimes they get so focused on the itch that they lose sight of the fact (actually they probably don't care) that they are pulling their manes and tails out in the process of the scratch.
Well, a company called Two Fair Mares has a solution and it's called the Equine Scratcher.
A few months ago, Two Fair Mares sent Soulful Equine a letter via snail mail.  Since so few companies contact others that way anymore, it certainly made theirs stand out in the crowd.  We had seen their Equine Scratcher product in an online catalog and thought it looked like a very interesting product and made a mental note to find out more.

Time went by as it does, so when we received the letter from Two Fair Mares inviting us to try their Equine Scratcher, we were reminded of our desire to research it further and contacted them regarding the potential for a future product review.
To make a long story short, they offered to send us two Equine Scratchers that we could install and try out.
As the Two Fair Mares website states, "the Equine Scratcher is designed to give maximum itch relief without the worry of potential injuries."  Once you see the design you will understand.  The product is made of very sturdy plastic and its ridges are smooth so no hair will get caught and pulled out.
The Equine Scratcher comes with installation instructions, but the best advice we got was in an email from Susan of Two Fair Mares.  The scratcher, as it comes out of the package, is solid and flat.  Since we were considering installing it on a post, I had a few questions and Susan gave me the following advice before installing:
"You will find by even holding The Scratcher on your body asking it to bend, the heat of your body will start to curve it. It is rigid and feels like it won't bend, but it will. Find your post, then screw in one side, then gently bend the Scratcher around and attach the other side. Remember not to use a post that is less than 8″ in diameter.  ( I use mine on 6" posts, but we don't want people mounting them on posts that are too small because the horse may knock over the entire post)."
These were good tips and very helpful.  We did install one Scratcher on a post that is less than 6 inches in diameter, however, because the horses have been rubbing on these posts for quite some time already, we knew they were sturdy and would not be knocked over by their rubbing.
The Two Fair Mares also have an Equine Scratcher video on their website that shows the installation on a wood wall.  We made our own little video to show a little bit of our experience that you can view below.
One consideration that we have with any products that are going to be placed in with our horses is their durability.  Ransom, the youngest horse, has a very high play drive and loves to dominate anything new that comes into his area.  He loves to play with balls and hazard cones that we leave out for him to move from point A to point B.  He's very curious, so anything we put in with him has to be sturdy.  We're happy to say that the Equine Scratcher was up to the "Ransom Challenge" and survived his test quite well.
Although the scratcher has been installed for a few weeks now, we haven't been able to actually videotape the horses using them, however, we know that they are enjoying them because we see dust and dirt in the grooves from the scratching that they've done.  Since the scratchers were installed, we have also noticed that we're no longer finding chunks of hair on the ground or stuck on the wood posts that was pulled out in a scratching frenzy.
We have been quite pleased with the quality and the results of the Equine Scratchers and we would recommend them without hesitation.
Update 2013:  The Equine Scratchers were installed in 2010 and the horses are still enjoying them!  We often catch them using one of the scratchers.
Soulful Equine's "Scratcher" Video
Press the play button below to launch the video.
Where To Find More Information