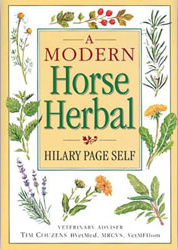 Many years ago I decided to purchase the book A Modern Horse Herbal by Hilary Page Self.  I felt this book would be a good opening review for our 2010 series.  Over the years I have found myself consistently recommending two books that should be part of everyone's equine book collection and this is one of them.
When I started down my path to non-traditional horse care, I was determined to find answers to many of the questions I had in regard to common problems that our horses face with traditional approaches.  One of my fundamental beliefs is that if you do not stand for something you will fall for anything.  With that said, it is important to me that when I start on a quest to learn more and seek out answers, it must mesh with my already strong and grounded belief system.
One belief I do have that has to do with this review is that the further away from Mother Nature we continue to move, the sicker our equine partners will become.
On that note, lets get to the review.
About Hilary Self
A Modern Horse Herbal's first copyright dates back to 1996.  It is written by Hilary Self BSc, MNIMH.  She is a Medical Herbalist and a member of the National Institute of Medical Herbalists and her experience with the use and application of herbs dates back more than 25 years.
You may have heard of the company Hilton Herbs, a company which produces herbal and natural health care products for horses and dogs.  Hilary is one of the founders and a director and is also a member of the National Institute of Medical Herbalists (NIMH).  She and her husband live in Somerset, UK where they run Hilton Herbs.
Something you may find interesting is that in 2004 Hilary received an award from the NIMH for innovative projects in herbal medicine.  She was recognized for the clinical trials she undertook where herbs were used for horses with Cushings disease.
What is A Modern Horse Herbal About?
A Modern Horse Herbal is a detailed guide to medicinal herbs for horses and how herbs can help with a wide range of common problems of the domesticated horse.  This is basically a guide written for those who are looking for information on a more natural approach to their horse's health.  Although you will notice throughout the book, which I would like to point out, is that this book is not to be used in place of veterinary care.  It is, however, an excellent resource.
Getting Inside A Modern Horse Herbal
Forward:
I love the forward to this book.  It was written by Tim Couzens BVetMed, MRCVS, VETMFHom.  The forward is short but to the point.  Tim briefly draws attention to several key points we should all keep in mind.  This is what I feel should be noted from Tim:
There is a unique link between herbs, healing and health
Although this is the age of medical technology and advancement, this book is a reminder that Nature holds remarkable healing powers
Nature can provide a simple solution to many of the increasing health problems we see today in our domesticated horses
Introduction:
Although the entire book is full of valuable information, I believe a fundamental understanding of what this is all about is important.  This is where the introduction to A Modern Horse Herbal does an excellent job.   The list below is an entry point to a vast amount of information that is good to be aware of, which is addressed in the introduction:
Man has lost the sixth sense which allows him to know instinctively what is good for him, animals have not
If returned back to a more natural environment animals could survive very successfully
Returning animals to a more natural environment would cause them to not be plagued with the common ailments encountered today which is created by intensive farming practices and man's greed
Most domesticated animals do not get the opportunity to use their instinctive wisdom due to the unnatural conditions they are kept in
Science now plays a greater role in the control of our animal feeds and the drugs that we use to enhance their performance.
Stress put on our horses today, which also includes the way they are kept, has produced new problems that did not exist more than twenty years ago
There is a greater reliance on the "quick fix" approach where only symptoms are treated vs. finding the underlying cause
Herbs work by treating the body as a whole, as opposed to treating the symptoms in isolation
As part of the introduction, it is stated that it is common place for conventional practitioners and horse "experts" to say that herbal remedies are unproven by trials.  Hilary does an excellent job of pointing out that we should "Look to the past!" where it was the observation of animals that guided humans in their choice of plant remedies.
How To Use This Book:
This section is a brief guide to help the reader understand the best way to use A Modern Horse Herbal.  Stated in a green "CAUTION" box, Hilary reminds the reader that this book is not to be used in place of veterinary care.
A Modern Horse Herbal is broken into three parts.
PART ONE: Consisting of Materia Medica (in case you do not know what that means, from Wikipedia:  a Latin medical term for the body of collected knowledge about the therapeutic properties of any substance used for healing), Non-Herbal Miscellany and Alternative Antibiotics
Materia Medica
I really like this section of the book.  It is excellent to use as a quick reference for common names of herbs, their actions, usage and dose.  The herbs are listed in alphabetical order, so it is relatively easy to find the information you need.
If applicable, a green box at the end of an herb section titled either "CAUTION" or "NOTE" is provided.  This boxed area is used to point out important information about the herb.  For example, in the section on Parsley it is noted "As Parsley has uterine stimulatory properties do not give to mares in foal".  This particular statement was titled as a NOTE not a CAUTION.
Non-Herbal Miscellany
There are many remedies that do not fall into the herbal category that can be very effective for horses:  cider vinegar, honey, probiotics, propolis, and water are all mentioned.
Cider vinegar is mentioned multiple times throughout the book and for good reason. It has many therapeutic properties, but it is important to note to use good quality cider vinegar produced, if possible, from organically grown whole apples.
Water and its purity are fundamental to good health; however, increased pollutants should be a concern.
Alternative Antibiotics
There is a growing concern in regards to over use of antibiotics… and for good reason.  There are many herbs with antibiotic and antimicrobial properties.  This section lists certain herbs that were used in a specific situation with success.
PART TWO: Common Ailments
This is my favorite part of the book.  Hilary has taken the most common complaints experienced by horse owners in the 1990s and outlined the herbal treatments that can be administered.  Although the ailments are from the 1990s, the ones included are still common today.
Each ailment is well described and recommended herbs are in bold for easy reference.
I especially like the sections on Worms and Mineral/Vitamin Deficiency.  At the end of Mineral/Vitamin Deficiency is a list of vitamins and minerals and next to each is a list of herbs that are good  sources for that particular vitamin or mineral.  For example, Copper:  burdock, clivers, dandelion, garlic, yarrow, carrots, turnips.
So, the next time you think of killing off the dandelion in your yard, think again.  Your horse would love it!  One of my horses will seek it out in my yard when I hand graze him.
What you will notice after reading PART TWO is that both kelp (seaweed) and cider vinegar crop up over and over.  Hilary states that you will not go far wrong if both of these were included in your horse's daily ration.  Just be sure to obtain quality sources.
PART THREE: Alternative Therapies
Brief descriptions of alternative therapies as well as some interesting case histories are provided.  Some remedies mentioned are Bach Flower Remedies, aromatherapy, essential oils, homeopathy, chiropractic, etc.  This section is an overview but will give you a good introduction to other therapies you can learn more about if you find them interesting.
Buy or Don't Buy
If you want to learn more about herbs and different ailments that may be helped by using them, this is an excellent resource.  This is a book I have used over an over again for many years with great success.
This book is a good guide if you are thinking about purchasing an herbal remedy for your horse or dog.  You can easily look up an herb, it's uses and whether or not it is used for the ailment you may be experiencing with your horse.
Keep in mind that it is important to obtain formulations from a qualified herbalist.  It is also important to not compromise quality for price.  Find out if the ingredients that are being used are fresh, contaminate free and are of the highest quality.
Will I ever read this book cover to cover again?  Probably not.  I will continue to use it as a reference when I feel I need more information on a particular herb or ailment.  It is definitely a book I would not want to do without.
Other Reviews of A Modern Horse Herbal
I was unable to find any other reviews of this book. If you find a review that you feel will add value to this article please post it in the comments and I will update this section.
Related Links Of Interest