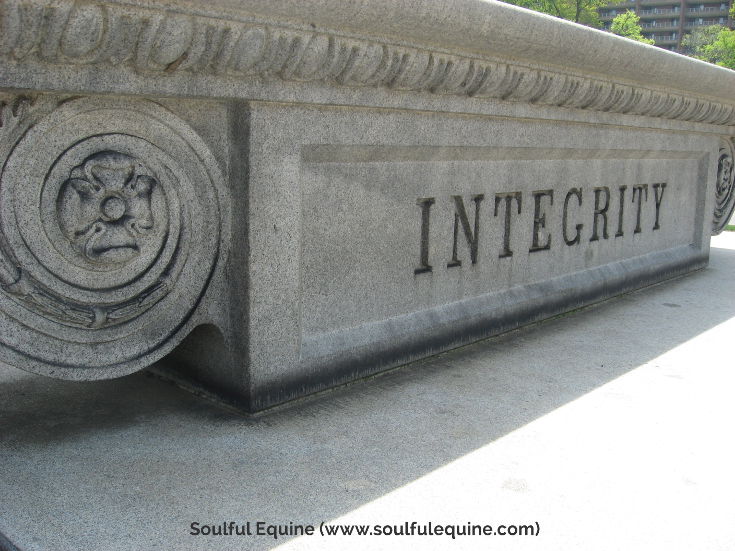 What exactly is integrity?  According to Wikipedia, one way to tell if someone has integrity is to see if "they behave according to the values, beliefs and principles they claim to hold."
It's short and sweet, but it's not simple.  That's a tall order.

So many people talk the talk, but they're not walking it.  They don't realize that they're living in glass houses and that the sly comments or the disgusted looks they throw at those around them are hypocritical.  They don't see it because they're blinded by their morals.
Never let your sense of morals prevent you from doing what's right.  ~Isaac Asimov
Things like that go on every day.  I see it.  I've been the brunt of it.  I have probably even done it, although I try so hard not to let myself go there.  But the other day, I had something happen to me that rocked my world.
Story Time
Last week I was out running my errands.  One of these was to go by my auto service center because it was time to get my car inspected.  For those of you who don't live in Texas, we are required to get our vehicles inspected every year (although I think for new vehicles you can wait two years before your first required inspection).
So, I ran my first errand which was a trip to the bank.  Once finished there, I thought I would call my car care center to make sure that they even do state inspections and to see what the current wait time was.
When the gentleman answered the phone, I said, "Hi, do you do state inspections?"  He said "Yes, but which county do you live in?"
Immediately a tiny sense of dread came over me because I realized that they were in one county and I lived in another county.  I thought perhaps they weren't allowed to do out-of-county inspections.
I told him what county I lived in, and to that he replied, "Oh… well then if you want to save yourself $20 you could just drive a little North and go to that Chevrolet dealer.  They do inspections there and it'll only cost you $15.  Here in this county we have to also do an emissions test, and that will add $20 to your bill.
Could I have heard that correctly?  It wasn't that they weren't allowed to do inspections and emissions tests on out-of-county vehicles; he was simply trying to save me some money?
I was at a loss for words.
When I finally got my senses back, I thanked him and turned the car around and headed North.
My Distrust Of Mechanics And Car Salesmen
Maybe the women out there can relate to this, but I'm very leery when going to a new automobile service center.  I feel like the minute they see a woman walk in they think it's an opportunity.  They figure that a woman won't know enough about cars to know any better if they're changing my oil and they happen to mention that my brakes need replacing…
…even though they don't.
So I have a distrust for these people (right or wrong) that has grown over the years based on personal experience and the experiences of my friends.
Just the thought of going to a new auto center sends chills down my spine even as I write this.  A cold sweat forms on my brow and my hands start to shake… next thing I know I've drifted into a nightmarish fantasy and a mini-cartoon starts to play in my head.
Join my nightmare, won't you?
First, the Loony Tunes music starts
I imagine myself driving up to an auto shop for the first time and seeing a bunch of service repair guys standing around outside laughing, scratching and spitting.  Suddenly, they look up and stop what they're doing because in walks a blonde woman.
A sense of excitement fills the air.  They start punching and jabbing each other and one says to the others, "Boys it looks like a twofer.  Not only is it female, but it's blonde…"
Their eyeballs pop in and out of their sockets flashing dollar signs
I, all unsuspecting and pitifully blonde, walk up to one and ask if they do state inspections.
"Sure ma'am," says one through a wad of chew in his cheek, "we'd be happy to inspect your little ole car.  We should be able to have you in and out in no time.  It'll only cost you $35," he says with a scratch.  "You just go have a seat in our waiting room over there and have a nice cup of coffee and we'll come get you when it's done."
Meanwhile, unbeknownst to me, in the grease pit out back…
…a scenario much like that in Ferris Bueller's Day Off (when the valets take Cameron's dad's convertible 1961 Ferrari – of which only 55 were made – and drive like maniacs all over Chicago) is occurring.
The scratching mechanics swarm around my car laughing and twirling their evil Snidely Whiplash mustaches… pulling parts out and tossing them to the side.
"I'll get you, my pretty, and your little car too," the one mumbles under his breath with chew drool running down his chin.
Thankfully something awakes me from this nightmarish cartoon
I shake my head to clear my thoughts and try to come back to reality; glad to remember that I was just treated considerately and selflessly by my car care guy.
Could this be?
The Effect
What effect do you think this man's action had on me?  He gave up an easy opportunity to make some money in order to save me some.
Not only did it make me teary-eyed (I know, I'm a wimp), but it built a sense of trust and loyalty in me immediately that could have taken years of good experiences at their facility to build otherwise.
I've only been taking my auto to this car center for about a year now.  I've had nothing but exceptional service there.  I really feel that they're up front and honest and try to do the right thing.
But this… this created a lifetime customer.
It's ironic, or maybe it's not, but their name is Integrity Car Care.  Can you imagine naming a business something like that?  People coming in there must already have some very high expectations.  That takes guts.
If you live near Pilot Point, Texas… check them out.  They really live up to their name.  I can't imagine that they won't impress you as much as they continue to impress me.
So what did all of this teach me?
Finding integrity in the business place today is rare.  Oh, I know it exists, but for every one out there that has it, I bet there are a hundred that don't.
It's not easy to live a life of integrity.  To behave according to the values, beliefs and principles we claim to hold is challenging.  Many people say one thing and do another when no one's looking.
You can easily judge the character of a man by how he treats those who can do nothing for him.  ~James D. Miles
So I've learned (I really kind of knew this all along) that when our intent is truly to help others and to put their needs ahead of our own, the trust and loyalty and really, really good karma totally trumps any coupon or advertisement out there.
What Does This Mean To You?
That's what we strive for at Soulful Equine.
We strive to tell others what we truly believe, even though it may be controversial.
We strive to educate people about non-traditional methods that not only work, but usually work better than the traditional ones, despite the rants of those who stand to lose money if you or your horse stay well.
We strive to recommend products that we believe in and use ourselves, not just ones from businesses that have paid us or given us freebies in hopes of a good mention.
These are the things we strive for.
Oh, and we really, really want to help eliminate those nightmarish cartoons of distrust from playing in people's heads.
####
Photo Credit – original photo modified in size and to include the Soulful Equine name and URL