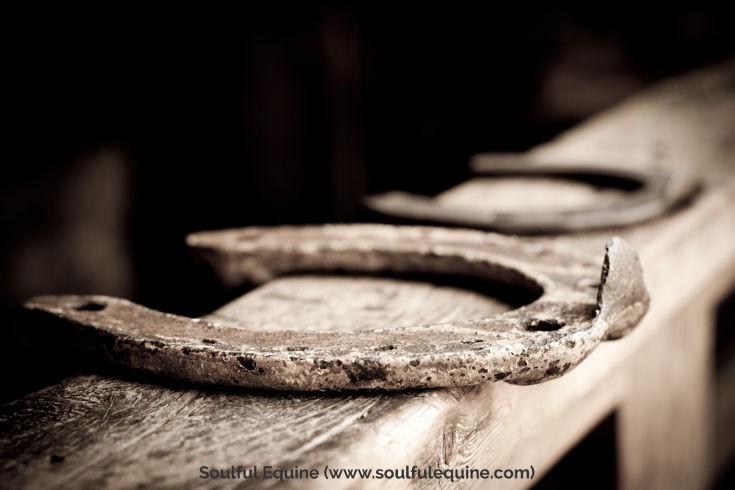 It was a beautiful day in the fall of 2009 in Texas. I'd been preparing myself and my young three year old, Ransom, for his first début in the limelight. He's such a big ham and loves to be the center of attention, so to him it was an adventure.
I pulled up to the barn Ransom would stay in at Will Rogers Coliseum in Fort Worth, TX and then got ready to unload him.
Although he was such a young horse, I felt confident he was prepared. Additionally, I knew our partnership was strong enough to handle any surprise that cropped up.

I put down the ramp and opened the door to my trailer, which is a reverse-slant, where the door opens to the side, not the rear. I went in, untied Ransom and asked him to slowly back out.
Everything was fine until all four feet hit the concrete. Yes, this place was all concrete.
That was the one thing we didn't prepare for, loading and unloading on concrete.  He didn't know what to think and all four feet spread out as he looked at the ground and snorted. I made sure I gave him plenty of rope and time to figure things out on his own while I was there to support him. It didn't take long for him to come to the conclusion that he wasn't going to fall through the ground.
When that situation happened to us, the first thing that ran through my mind was "Boy, I'm so glad he's barefoot."  Why? Because that situation may have played out much differently. If Ransom had been wearing metal shoes, he could have paniced, started slipping and maybe have injured himself, or me.
Truth – accidents with horses happen on concrete
I often hear of horrible accidents happening on concrete with a shod horse. Many times the accident results in a horse or rider being severely injured or killed.
When I hear of such accidents, I wonder how many could have been prevented if the horse hadn't been wearing metal shoes.
The sad truth is – a shod horse on concrete is an accident waiting to happen.
Your horse can panic out of fear of falling
It's not an uncommon scenario where a horse, who's shod, panics, slips, and then falls on concrete – many times with a rider aboard.
It's not much different than you trying to walk on ice without falling. What's the first thing you do when you start to slip?
You panic, right?
Your heart races and you do everything you can not to fall.
A horse feels the same way except she's a horse and weighs a lot more than you.
Your horse is likely to panic, become afraid, and cause an accident. Her flight mechanism kicks in, and many times, her instincts override what you've taught her. Not only does your horse panic, but you may panic as well – that's a bad combination.
Put the odds in your horse's favor, so she's less likely to panic and fall
Why did my horse Ransom not fall when he had a moment of panic shoot through his veins? One reason, it's because he's barefoot and he could more adequately feel the ground beneath him. As a result, he also had better balance in that situation.
Have you ever walked across sawdust or hay on concrete and almost busted it? I know I've come close many times. Now if I were barefoot in those situations, I would feel the ground beneath me, have more traction and, therefore, be less likely to fall.
A horse who isn't shod also has more traction and is less likely to have an accident on concrete. Since she's better able to feel what's beneath her feet, it gives her more confidence to regain her composure when afraid. Whereas, if she has on metal shoes, all she's thinking about is her fear of falling.
If your horse is barefoot, the odds are in her favor that an accident on concrete will not happen – the result – it could save a life. Yes, it's that serious.
This is a barefoot horse benefit.
Keep it soulful,
Stephanie Krahl