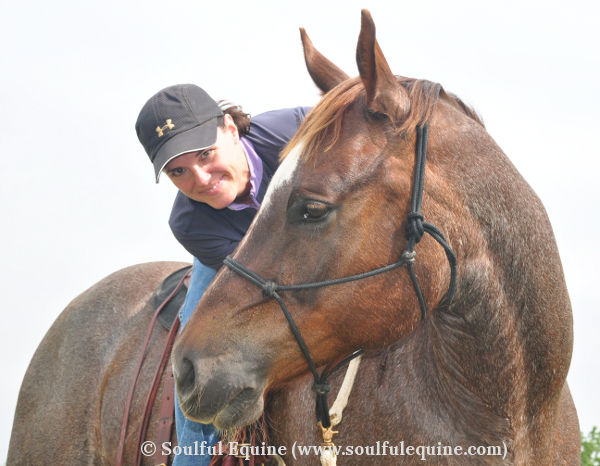 Stephanie Krahl and her horse Ransom
Since most people like to know about formal training, I've included a list of some of the formal education and experience I've had in natural hoof care, horsemanship, etc. This is not an exhaustive list – just a few bullet points of things that I've done in the past that are relevant.

Formal Training
Started studying and using natural hoof care in 2002
Natural Hoof Care and Trimming Experience from 2002 – present
Natural Hoof Care Formal Training – Association for the Advancement of Natural Horse Care Practices (AANHCP)
Introduction to Natural Hoof Care:  January 28 -29th of 2006 – Pete Ramey (Hosted and attended two of these clinics January 2006 & February 2007)
Introduction to Natural Trimming (Cadaver Hooves):  May 19, 2006
Introduction to Natural Trimming (Live Horses): May 20, 2006
Formal natural hoof care mentorships completed: October 21, 2006, November 4, 2006, April 14, 2007
Hoof Anatomy Clinic:  Completed July 16, 2006 – Todd Jaynes
Various other natural hoof care mentorships Summer 2006
Natural Trim Workshop:  November 4, 2007
Pete Ramey – Under the Horse 16 Hour Hoof Rehabilitation Series (Note:  20 hours CE credit available for veterinarians and vet techs)
Cushings and Insulin Resistance course: December 2009 – Dr. Eleanor Kellon
Since August of 2000, I have completed many other educational courses on natural hoof care, natural horse-man-ship and saddle fitting.